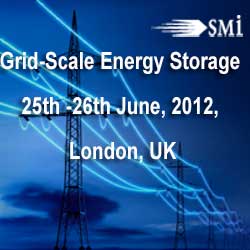 (PRWEB UK) 16 May 2012
Grid-Scale Energy Storage will grow into a $113.5bn market over the next five years from its current value of $2.8bn, forecasts a new report from US analysts Lux Research.
The report estimates that global energy storage capacity to climb to 185.4GWh by 2017, up from 3.2GWh this year.
The market will be led by the US with a share of 23% (worth $25.7bn), followed by Japan and China, both with 18%, and the UK and Germany with 9% apiece.
With power outages costing America up to $188bn annually, "commercial customers require more reliable electricity supplies." says Lux associate Brian Warshay.
Key speakers include:

Karima Boukir, Head of Management of Intermittent Renewable Energies, EDF Energy
Keith MacLean, Policy and Research Director, Scottish and Southern Energy
Richard Smith, Future Transmission Networks Manager, National Grid
Andy Boston, Technical Head, Business Modelling, E.ON
Graham Howes, Ventures Associate, BP Alternative Energy International
Jo Blom, Innovation and Strategy Consultant, Alliander
Graham Cooley, Chief Executive Officer, ITM Power
PLUS 1 POST CONFERENCE WORKSHOP:
Grid Connected Energy Storage- Its role and basic design principles
27th June 2012, London.
TO RESERVE YOUR PLACE
Telephone: Andrew Gibbons on: +44 (0)20 7827 6156
Email: agibbons(at)smi-online(dot)co(dot)uk
Group booking discounts also available!