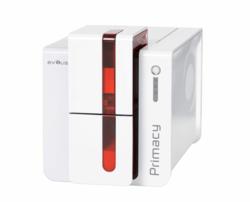 "By leveraging a robust innovation strategy, Evolis implements a disruptive strategy with Primacy. The printer comes with unmatched performances, ease of use and simplicity, while complying with the most stringent eco-design standards. Primacy, therefore,
Angers, France (PRWEB) May 15, 2012
Evolis introduces Primacy, the ID card printer that will set new records in rapidity, power and high performances. Easy-to-use, Primacy supports single or dual-sided printing and, just like other card printers from Evolis, offers superior quality.
Evolis Primacy supports any needs in card printing and encoding, from medium to large runs. This is the perfect card printer to issue transit passes, bank cards, identification cards, as well as multi-feature student cards.
For extended flexibility and top performances, Primacy comes either with a single or double-sided option. To answer changing requirements on the user side, the double-side option can be activated on site. This flexibility is also available for encoding options (magnetic stripes, smart cards or RFID contactless cards).
Primacy, the most powerful and flexible ID Card Printer
Primacy is the fastest card printer in its category and can print up to 210 one-sided color cards per hour, and up to 140 in the dual-sided mode. The ID card printer also ensures top-notch printing quality at an unmatched printing speed.
Primacy is the very first ID card printer in its category to offer this high level of user-friendliness through such a compact size. Primacy delivers cards in runs, thanks to 100-card capacity input and output hoppers which are conveniently located at the front of the printer and can be accessed easily.
Primacy is an eco-designed card printer. The energy consumption is on average 5 times lower than card printers form the previous generation. The card printer benefits form the ENERGY STAR certification and is compliant with the ErP directive. Primacy operates at a low 48 db sound level and, therefore, can be seamlessly deployed into any working environment.
Learn more about Primacy on:
http://www.evolis.com/eng/Products/Card-printers/Evolis-Primacy
About Evolis (http://www.evolis.com): Evolis develops, manufactures and markets a complete range of on-demand card printers. These printers provide all options needed for graphic, magnetic and electric personalisation (chip card with or without contact – RFID technology) of all types of cards (employee badges, student cards, transport tickets, bank cards, etc.). Based in Angers (France) with subsidiaries in Miami (United States) and Singapore and representation office in Shanghai (China), Evolis posted sales of €44.4 million in 2011. Since 1 January 2012, Evolis markets a complete range of card accessories through the Sogedex Accessories subsidiary. The Company has 175 employees and is represented in more than 125 countries throughout the world.
Press contact:
Sandrine Derouet - Evolis Card Printer
sderouet(at)evolis(dot)com - T : +33 (0)2 41 36 79 24