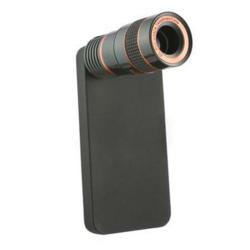 The iPhone Toolshed's products allow iPhoneography enthusiasts to make their iPhones more versatile cameras and better creative tools.
New York, NY (PRWEB) May 17, 2012
With Spring in full bloom and Summer on the near horizon, we're all on the move—and taking more pictures than at any other time of year. Whether on vacation or on business, mobile imaging has been redefined by the Apple iPhone. No wonder: the iPhone ensures that users will always have a camera in their pocket so they never miss an important photo opportunity. That unique spontaneity is why iPhone photography has earned the name iPhoneography.
As a camera, though, the iPhone has its limitations. That's exactly why Adorama has created the iPhone Toolshed. This online emporium of photo accessories for the iPhone offers virtually every accessory iPhone owners need to turn their iPhones into better, more versatile cameras, for both stills and video. And it does this at the most competitive prices in the business.
New items in the iPhone Toolshed include a magnetically-attached wide-angle lens, perfect for vacation scenics; an add-on telephoto lens that's great for tight shots of pint-sized baseball players; a plug-in microphone that delivers improved audio quality in iPhone video; a compact, bendable tripod for sharper low-light shooting; a soft-sided, zip-up waterproof housing for iPhoneography in wet environments; and a pocket-sized, telescoping extender that lets photographers hold the iPhone farther away, or at a higher point of view, for self-portraits that include more friends than can be fit at arm's length, or for shooting above heads in a crowd.
For more ambitious iPhoneographers, the iPhone Toolshed offers an ingenious supplementary lens for shooting 360-degree immersive iPhone video; an easy-on telescope adapter for photographing the night sky with your iPhone; a special cable that turns an iPhone into a sophisticated camera remote control; and inexpensive "jelly" lenses that produce intriguing special effects when placed on top of an iPhone's existing lens. There's even a specially designed "roller skate" with soft wheels and a flexible, iPhone-mount support arm that lets users create beautiful, movie-style dolly shots on any smooth surface.
These products are just a few of the many innovative devices in the Adorama iPhone Toolshed. Any one of them will allow iPhoneography enthusiasts to make their iPhones both more versatile cameras and more creative photographic tools. To see the full range of Adorama's iPhoneography products, please visit adorama.com/iphonetoolshed.
For more information about Adorama's iPhone Toolshed, please contact Russell Hart at russellh@adorama.com or (212) 741-0052, ext. 2423.
About Adorama: As one of the nation's largest photo retail and mail order suppliers, Adorama has served professional and amateur photographers for 33 years. It has recently expanded its service to the community through online photo education (the Adorama Learning Center and Adorama TV) and on-site workshops, programs that make it a unique industry resource. Adorama's vast product offerings now encompass home entertainment, mobile computing, and professional audio, while its services include an in-house photo lab (AdoramaPix) and pro equipment rental (Adorama Rental Company). Knowledgeable staff and unbeatable pricing make Adorama a one-stop shop for all your photo and technology needs. Visit http://www.adorama.com.