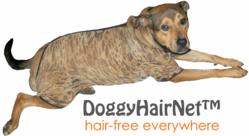 "I am so happy you came with up this idea! What took so long?" -Andrew B. Chicago, IL.
Chicago, IL. (PRWEB) May 16, 2012
In time for the allergy season, DoggyHairNets is proud to announce the newly updated DoggyHairNet range. Easier than ever to put on your dog, it is now available in new patterns and colors.
DoggyHairNets are safe, ventilated, comfortable, and can be worn for as long as you wish.
Doggy parents and friends of doggy parents have been looking for a solution to the shedding dog hair problem for years. Now, finally; Doggy parents can howl with joy and relief at the arrival of the new DoggyHairNets.
DoggyHairNets are designed specifically to give dog parents and dog lovers total control over that annoying shedding hair.
DoggyHairNets are made of a light weight ventilated mesh net polyester fabric that allows little Fido mobility, comfort, and safety, and they can be worn for as long as needed.
People are jumping with joy and singing praises of the DoggyHairNet. "I am so happy you came up with this idea! What took so long?" Andrew B.,Chicago, IL. "I received the DoggyHairNet™ for my little dog Keno. She sheds hair and also is allergic to grass. I was thinking what can I do to stop this. I thought of a long tee shirt. Then there was your ad about this cute outfit for stopping hair shedding. It is like you read my mind. This sounds great. I can use this for both. I ordered it."
The quality of the DoggyHairNet™ is very good. Using netting, lace and a zipper, the outfit works wonders. "I love it and would recommend this to every dog owner who has trouble with their dog shedding. And she really looks cute and she does not seem to mind wearing it."
Pat C., Dearborn, Mi.
Dog groomers and professional dog handlers are also finding great value in the DoggyHairNet because of its' ability to keep that 'just groomed' look lasting longer, and keeps hair from matting.
Finally, DoggyHairNets are easy to use. Simply zip the outfit on Fido and the hairs are instantly trapped. When you are ready to remove the outfit, unzip it and shake out the trapped hair anywhere that is convenient. It's just that simple, and DoggyHairNets can be easily hand washed.
Now spend more time loving Fido, and less time constantly vacuuming and brushing.
Take a tour at http://www.doggyhairnets.com to view the full selection of styles, sizes, and colors.