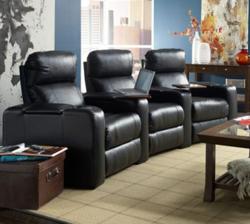 For a company to stay competitive for a full century is truly a testament to the quality and integrity of their products, and to the flexibility of their vision.
Golden, CO (PRWEB) May 17, 2012
Comfort is one of the top reasons people choose to create a home theater. Lane Furniture offers a full line of stationary, sectional and reclining furniture, featuring sumptuously padded seats, pocket coil construction and contoured cradle seating. Their recliners also offer Royal Zero Gravity Recline, which allows you to recline nearly flat after those too-long, too-full days.
Quality materials and construction are important when investing in home theater furniture. Lane Furniture seating offers sturdy and durable construction that includes chaise-style recliners designed to support your entire body with no gap between the chair seat and footrest. Many of their recliners feature motorized movement for ease of use. Lane home theater seating offers a wide range of footprints including space saving models. This ensures that even the smallest home theater has the quality seating it deserves.
Value is crucial in these tough economic times, so purchasing furniture from a website can be scary for first-time consumers. Competitive pricing, comprehensive warranties, friendly, professional customer support and an unimpeachable, century-long reputation for value make it easy for customers to choose the perfect home theater seating, sofas or sectionals for their living room or home theater.
Innovation is more than just keeping up with the flavor of the week. Lane Furniture realized the impact that television would have on home furnishing way back in TV's infancy. They were the first furniture company to open a research and development department, which led to their partnership with General Electric to produce TV cabinets. Since then, Lane Furniture has upped their game with motorized recliners, hidden cupholders and their whimsical, practical use of LED lights in both cupholders and underneath some of their home theater seating.
According to a recent study by The Nielson Company, people stay loyal to big-name brands when those companies demonstrate consistency over time and they stand for something real. Lane Furniture and TheaterSeatStore.com are committed to continuing to provide the comfort, quality, value and innovation that customers have to come to expect. Happy 100th Birthday, Lane Furniture!
About TheaterSeatStore.com – TheaterSeatStore.com is a division of InteriorMark, LLC, a leading retailer of products for the home. These include bedroom furniture, entertainment furniture, home theater furniture, sofas and sectionals and massage chairs. TheaterSeatStore.com offers a wide range of products and services which allow consumers to create and furnish bedrooms, living rooms and home theaters to fit their unique tastes and budget. InteriorMark is a member of the National Home Furnishing Association, and is proud to be a member of the Better Business Bureau.