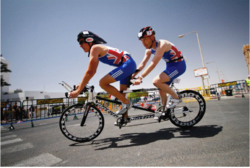 With wheels like that I didn't need to draft
(PRWEB UK) 17 May 2012
Luke Watson won the BUCS Sprint Triathlon Championships making it three out of three for him this season. The fourth year chemical engineering student at Loughborough University crossed the finish line in seventh position only to be promoted to British Universities champion after the leading group of six were penalised two minutes for drafting on the bike leg.
It is only two weeks since Luke Watson guided Iain Dawson who has only 7% vision to gold at the European Paratriathlon Championships in Israel. This is a remarkable feat given Luke Watson was also able to win the Pembrokeshire Tri Club in West Wales the week before. Luke now holds the British Universities title for both Sprint Triathlon and Duathlon and is the first athlete to hold two university titles simultaneously.
Luke Watson has been sponsored by Matrix Cycles since March of this year and only picked up his new T806 wheelset the day before Sundays big race; "With wheels like that I didn't need to draft" he joked after collecting his prize. "There was also a Matrix F35 carbon frame in the box which I haven't had time to build up yet; I can't wait to pair it with these wheels."
Throughout the course of this year, Luke Watson and Iain Dawson have been riding the Matrix Tandem with the aim of reclaiming the World Paratriathlon title. Unfortunately Dawson had a disastrous 2011 season with crashes and injury but is now back to form. Both Luke and Iain can look forward to a very busy summer ahead!
Interested in following Luke Watson? Visit his website at http://lukewatson90.blogspot.co.uk/. For information on Matrix Cycles bike frames, wheels and components visit the official website at http://www.matrix-cycles.co.uk/ or like their Facebook page here http://www.facebook.com/pages/Matrix-Cycles/257651940968088