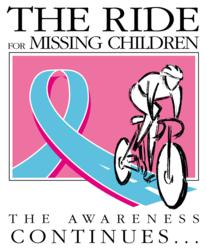 We're more than just a fundraiser, we bring healing and hope to families of missing children far beyond New York State.
Utica, NY (PRWEB) May 15, 2012
The Ride for Missing Children-Central New York, a one-day, 100 mile bike ride, will embark on it's 16th journey on Friday, May 18th. What started as a small group of bicyclists that hoped to raise awareness for the plight of one missing child has grown into the biggest annual fundraiser for The National Center For Missing & Exploited Children – New York/Mohawk Valley Office (NCMEC-NY/MV).
NCMEC-NY/MV facilitates targeted distribution of printed posters of missing children to aid in their search and recovery, and promotes awareness and education to prevent child abduction and sexual exploitation.
NCMEC-NY/MV is proud to announce that since it's inception September 15, 1995, through December 31, 2011 they have distributed 7,584,988 posters of 7,167 missing children, and 5,122 of them are now listed as "successfully recovered". These numbers are specifically for the MV satellite office; nationally the numbers are even greater.
Much of the needed funding it takes to run this Center comes from the annual Ride for Missing Children-CNY. In order to participate in The Ride, Riders must raise a minimum of $500. This money goes directly to the Center to support their missing child poster distribution and community education.
The Center estimates that it costs $0.25 per poster, so every dollar raised equals four more posters or chances to bring a missing child home. Last year's Ride raised the equivalent of 1,544,936 posters of missing children, a record amount. There were also additional community donations, and grants from First Source Federal Credit Union that came as their Corporate Luminary Sponsorship for The Ride. The grants aided in the purchase of needed equipment for the Center as some they were running on was very outdated. The new equipment cut response time of getting posters out from 6-10 days down to a matter of hours. The Center is now even more instrumental aiding in emergency situations and cases.
To get ready for the approximate 100-mile bike ride, preparations and training happen year round. There are monthly meetings for Riders and Volunteers to understand the importance of the Ride, obtain the right cycling apparel, learn how to prepare both mentally and physically, as well as garner fundraising tips.
What participants learn immediately is that although they are going to ride their bikes approximately 100 miles in one day, this event is "not about a bike ride". It is about raising awareness of the plight of missing children, and spreading a message of abduction prevention and of hope – that this group will never stop searching for your missing child. It is about a mission "to make our children safer …one child at a time". The bicycles are simply a vehicle to help carry the message along.
Throughout the day of the Ride, the Riders stop at schools to visit with children reminding them of the importance of personal safety. An opening ceremony kicks off the Ride, where families of missing children and some recovered children themselves speak to the Riders and thank them for what they are doing and wish them well on their journey to help bring attention to the atrocities that happen when a child is abducted or exploited.
From the initial Ride in Central New York, The Ride has grown to include 4 more Rides for Missing Children across New York State – Rochester, Syracuse, Albany and Buffalo. For the first time in 2010, The Ride For Missing Children expanded their reach, extending beyond New York State's borders to Fort Smith, AK, and more Rides are expected to take off in other states.
"Looking back on what we've accomplished and what we're still doing astounds me…in a good way" said Frank Williams, Chairman of NCMEC-NY/MV and The Ride for Missing Children Executive Board of Directors. "Our local community started a grassroots effort in 1995, and now to see that we've grown into a substantial regional fundraiser and into other cities across the US is a testament to the human spirit. We're more than just a fundraiser, we bring healing and hope to families of missing children far beyond New York State."
"The statistics are staggering," said Wendy Fical, Program Director at NCMEC-NY/MV. "Over 2,000 children are reported missing daily nationwide and 90% of children are abducted or lured away by someone they know and trust. The educational piece we provide is paramount to abduction prevention. In the event that it does happen, the support we provided parents during the search for their missing child is invaluable. We could not do this without funds raised through The Ride for Missing Children-CNY."
For more on The Ride For Missing Children-CNY please visit therideformissingchildren.com or call Frank Williams at 315-794-1031. For more on the National Center For Missing & Exploited Children-NY/MV Office, please contact Wendy Fical at 315-732-7233.
About the National Center for Missing & Exploited Children
The National Center for Missing & Exploited Children is a 501(c)(3) nonprofit organization. Since it was established by Congress in 1984, the organization has operated the toll-free 24-hour national missing children's hotline (1-800-THE-LOST) which has handled more than 2,528,730 calls. It has assisted law enforcement in the recovery of more than 157,720 children. The organization's CyberTipline has handled more than 1,015,250 reports of child sexual exploitation and its Child Victim Identification Program has reviewed and analyzed more than 44,891,500 pornography images and videos. The organization works in cooperation with the U.S. Department of Justice's office of Juvenile Justice and Delinquency Prevention.