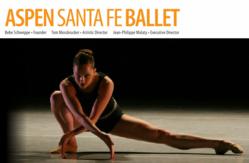 Aspen Santa Fe Ballet moves just like a dream. – Kansas City Star
Santa Fe, New Mexico (PRWEB) May 14, 2012
The stage is set once again for the Aspen Santa Fe Ballet at the Lensic, Santa Fe's Performing Arts Center with the company's 2012 Summer Dance Season Performances schedule announcement. The Aspen Santa Fe Ballet is offering three performances this summer including the Aspen Santa Fe Ballet – Program I on July 13 and July 14, The Hong Kong Ballet on July 31 and the Aspen Santa Fe Ballet Program II on September 1. The Aspen Santa Fe Ballet events and business are a featured business on Hutton Broadcasting radio stations and Santa Fe visitor guide SantaFe.com
A detailed description about each of the performances is as follows:
ASPEN SANTA FE BALLET- PROGRAM I
July 13th & 14th | 8pm
The Lensic, Santa Fe's Performing Arts Center
Both youthful and sophisticated at once, Aspen Santa Fe Ballet is recognized as a leader in the dance world for its refreshing collection of work by the world's fore¬most contemporary choreographers. For its first program this summer, Aspen Santa Fe Ballet will present a world premiere by Spanish choreographer Alejandro Cerrudo of Hubbard Street Dance as well as Norbert De La Cruz' smash hit Square None, and Cayetano Soto's delight¬ful Kiss Me Goodnight. Born in the American West and now touring internationally, this troupe of eleven classi¬cally trained dancers has become an arts ambassador for Santa Fe.
"Aspen Santa Fe Ballet moves just like a dream." – Kansas City Star
ASFB PRESENTS
THE HONG KONG BALLET
July 31st | 8pm
One Night Only
The Lensic, Santa Fe's Performing Arts Center
Making its first appearance in the United States since 2004, The Hong Kong Ballet is internationally recognized as a world-class institution with an identity that fully reflects the unique vitality of Hong Kong. With only three U.S. engagements this year, The Hong Kong Ballet will perform a repertoire featuring work by choreographers Kinsun Chan, Peter Quanz and Nils Christe, melding classical technique with contemporary influences for an evening of stunning international ballet.
"Hong Kong Ballet's unique identity…merges Chinese and Western culture as well as the musicality of the dancers." Dance Journal
ASPEN SANTA FE BALLET- PROGRAM II
September 1st | 8pm
One Night Only
The Lensic, Santa Fe's Performing Arts Center
Aspen Santa Fe Ballet closes the summer season with an entirely different second program featuring a collection of audience favorites: Uneven, by Cayetano Soto, Nicolo Fonte's breathtaking In Hidden Seconds; and Jiří Kylián's charming Sechs Tanze. The company that the Chicago Sun Times calls "simply breathtaking…" audiences in cities such as New York, Chicago, Dallas and Los Angeles have embraced Aspen Santa Fe Ballet as "one of the hottest tickets in ballet" (Pittsburgh City Paper).
"Marvelous troupe, beautiful people who dance beautifully." Sid Smith, The Chicago Tribune.
TICKET INFORMATION
Tickets go on sale Monday, May 14 at 11 a.m. All performances are held at The Lensic, Santa Fe's Performing Arts Center at 8 p.m. unless otherwise noted. Tickets are $20, $36, $62 & $72 and can be purchased by contacting Tickets Santa Fe at The Lensic: 505-988-1234, stopping by the box office (Tickets Santa Fe at The Lensic) or going online: http://www.aspensantafeballet.com.
Groups of 10 or more can receive discounts of up to 40% off regular ticket price. For more information, please contact Jennica Deely, 505-983-5591
ASPEN SANTA FE BALLET
Heading into a second decade of activity, the success of the Aspen Santa Fe Ballet is cause for celebration. ASFB is a uniquely structured and multi-faceted organization, founded in 1990 by longtime Aspenite Bebe Schweppe. It not only is a nationally recognized dance company, a leader in the dance world in terms of repertoire, acquiring and commissioning work from top choreographers; but it is also one of the largest dance presenters in the country, welcoming the best in dance in both Aspen and Santa Fe. Education is a priority for the organization with schools in each of the cities. Cultural community activity is also included under the ASFB umbrella, with the popular award-winning Mexican folklore youth program, Aspen Santa Fe Ballet Folklórico, offered in both locations.
About SantaFe.com/Hutton Broadcasting
SantaFe.com provides locals and visitors to Santa Fe alike the most current interactive platform for events, music, arts, business, dining and lifestyle. SantaFe.com is a division of Hutton Broadcasting, located at 2502 C. Camino Entrada, Santa Fe, NM 87507
Contact Information:
Scott Hutton
SantaFe.com / Hutton Broadcasting
http://www.santafe.com
(505) 471-1067 (Media inquiries only, please)