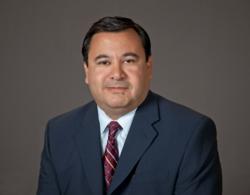 Las Vegas, NV (PRWEB) May 15, 2012
Holland & Hart LLP is pleased to announce Edward Garcia has joined its Legislative and Regulatory Affairs practice.
Mr. Garcia is based in Holland & Hart's Las Vegas office. Mr. Garcia's addition increases the firm's Southern Nevada and statewide Regulatory and Legislative Affairs practice.
Mr. Garcia provides strategic legal counsel for clients in land use, liquor and gaming, business, real estate, legislation, lobbying, and administrative law matters before state and local governmental agencies.
Mr. Garcia is a member of the Clark County, Latino and American bar Associations. He is also a board member of the United Way of Southern Nevada.
He holds a J.D. from the University of Richmond T. C. Williams School of Law and a B.A. from the University of Nevada, Reno.
About Holland & Hart
With its firm-wide resources, local presence and coordinated efforts, Holland & Hart LLP delivers integrated legal solutions to regional, national and international clients of all sizes.
Since its inception in 1947, Holland & Hart's more than 400 lawyers have consistently been recognized by leading national and international peer and industry review organizations for innovation and dedication to the practice of law.
Recently, Holland & Hart was recognized among the top 20 firms in the nation by U.S. News & World Report and Best Lawyers® based on total number of first-tier metropolitan rankings for 2011-12.
For more information, visit http://www.hollandhart.com.