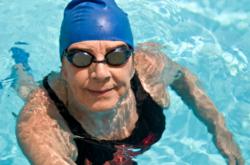 As we get ready to welcome summer, it's time to adjust skin care regimens to reflect the changes in temperature and humidity.
Neenah, WI (PRWEB) May 16, 2012
Skin cancer, the most common of all types of cancers, occurs in people of all ages, and about 76,250 new cases of melanoma will be diagnosed this year, according to the American Cancer Society. Rates increase with age and are highest among those in their 80s. When melanoma is detected early, before the tumor has penetrated the skin, the survival rate is as high as 97 percent, which is why it's important to prevent and detect.
"As we get ready to welcome summer, it's time to adjust skin care regimens to reflect the changes in temperature and humidity," says Dianna Malkowski, physician assistant, nutritionist and professional adviser for The CareGiver Partnership, a national retailer of home healthcare products.
"Summer weather causes skin to sweat more than usual, reducing its ability to breathe. Further, problems resulting from chronic incontinence — such as rashes, infections and ulcers — require extra steps to gently cleanse and protect."
Malkowski recommends the following steps for healthy summer skin for seniors:

Proper cleansing is important during humid weather conditions, especially after contact with urine or stool, to protect against damage. Regular soap and water can be harsh and drying, but there are cleansers with pH-balanced formulas that won't irritate sensitive areas, such as the Lantiseptic line of skin care, which is used in hospitals.
Skin should be gently patted dry after cleansing, using a fresh towel every time. If dry skin is not a problem in the summer months, seniors who use a gentle foaming cleanser may find they can skip all-purpose, oil-based moisturizers and choose a barrier protection made for sensitive skin areas.
Treating and protecting includes barrier ointments and creams are designed to protect skin from irritation caused by stool, urine or excess moisture. Caregivers of individuals at risk for skin breakdown should use only products that are formulated for aging, injury-prone skin, to protect against ulcers, chafing and tears. Skin protectants containing lanolin closely mimic the lipids in skin. Products that contain analgesic and anti-inflammatory ingredients can soothe. As they absorb, they deliver medicinal ingredients that are hypoallergenic, antifungal and bacteriostatic.
Hydrating from the inside is important in the summer months. Excessive sweating in hot, humid conditions leads to fluid loss. Drinking plenty of water, in amounts recommended by a senior's health care provider, can help control incontinence while staying hydrated.
Protecting skin from UV exposure may include wearing a combination of clothing, hat, sunglasses and sunscreen with a sun protection factor (SPF) of 30 or higher, and staying out of the sun between 10 a.m. and 4 p.m., says the American Cancer Society.
"May is a good time to remind everyone to watch carefully for any changes in the skin, such as moles that change in appearance. If you are fair and have a family history of melanoma, your risk for skin cancer is even greater," Malkowski says. "Visit the American Cancer Society website for more information on preventing and detecting melanoma."
See The CareGiver Partnership's Skin Care page for more information, or ask Dianna a question.
Dianna Malkowski is a Board Certified Physician Assistant and Mayo Clinic trained nutritionist specializing in diabetes, cancer, wound healing, therapeutic diets and nutrition support. She serves on the board of professional advisers for The CareGiver Partnership and enjoys working with patients and caregivers alike. Ask Dianna a question.