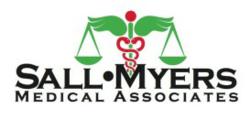 Paterson, NJ (PRWEB) May 15, 2012
Teens receive an average of 2899 text messages each month (blog.nielsen.com). How many of those occur behind the wheel? A driver is 50% more likely to get in an accident if they are texting while driving. Everyone is aware of the dangers that come along with texting while driving, and Dr. Myers of Sall-Myers Medical Associates wants New Jersey to step up and pledge to end texting while driving.
Dr. Myers is New Jersey's new spokesman for no texting and driving. To help spread the word and start holding people accountable for their actions, he is inviting you, your family, and your friends to take his pledge:

Under no circumstance will I ever text or read texts while operating a motor vehicle
If I need to check my phone, I will have a passenger do it for me. If I am driving along, I will pull over to a parking lot or other safe location.
I will not ride with drivers who text while driving.
If my friends text and drive, I will let them know that it bothers and worries me.
I pledge not to text and drive for my own safety, but also for the safety of all other drivers on the road.
Texting and driving kills people and ruins lives. I will not contribute to this epidemic.
To sign the pledge, visit the sign up page, virtually sign the pledge, and invite family and friends to do the same. Pledge to help save lives and your own.
Dr. Myers will be attending driver's education programs and high schools throughout the spring and summer to talk to students about safety behind the wheel and answer any questions about his campaign, dangers of texting and driving, and how more can be done to get people accountable for being safe drivers. For more information on how to get directly involved in his campaign, please visit our website or contact Debby at dminassian(at)sallmyers(dot)com.
Sall-Myers Medical Associates is a one-stop treatment facility for people who have been in auto accidents. They gathered the best group of board certified physicians for all medical needs after an accident including:
Treatment and evaluation of orthopedic and neurologic injuries
In house orthopedic surgical procedure
In house pain management services
On site radiologic, neuro-diagnostic and cardio-pulmonary testing
MRI, X-ray and Electro-Diagnostic Studies
Bilingual Staff
Workers Compensation Disability Ratings
Social Security Disability Ratings
Liability evaluations
Periodic treatment reports regarding patient's progress
Comprehensive discharge reports available on request
Our physicians will testify, if required, for our patients.
For more information on Sall Myers Medical Associates please contact Katie Herum at katieh(at)marketingzen(dot)com or by phone at 715.222.1228.