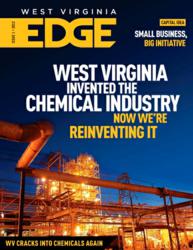 CHARLESTON, W.Va. (PRWEB) May 16, 2012
According to a new survey of respondents in 10 metropolitan markets, low taxes, better business opportunities and low business costs are the top financial considerations for choosing a business location.
In response, West Virginia has released a new publication – The West Virginia Edge – that illustrates how having the third-lowest business costs in the nation, pro-growth tax reforms and a business-friendly climate are helping enterprises of all sizes and types thrive in the Mountain State.
Issue 1 of the West Virginia Edge features:
The Marcellus Shale Development Boom
The gas-bearing shales that underlie West Virginia will yield so much ethylene that the United States will become the world's lowest-cost source of feedstock in the world outside of the Persian Gulf. It's been called a game-changer for West Virginia's economy. Learn more:
Small Businesses Score Big
More than 95 percent of West Virginia's employers are small businesses. The new West Virginia Capital Access Program gives the state access to $13.1 million to fund small business lending programs. Learn more about this program and the personalized business coaching the state provides.
RCBI: Inventors' Toolkit
The Robert C. Byrd Institute for Advanced Flexible Manufacturing (RCBI) puts 3D digital laser scanners, advanced materials fabrication and rapid prototyping techniques at the fingertips of manufacturers, inventors and entrepreneurs, providing access to the equipment and skills needed to compete in today's global marketplace.
West Virginia Made Modern Life Possible
From nylon to polyester… automobile seats, antifreeze and synthetic rubber tires… from shampoos to non-stick pans – and hundreds of ingredients for household products, garden chemicals and plastics that shape our modern life… All of these products had their basis in chemicals invented or manufactured in West Virginia. Learn more about the state's role in your life.
Come & See: Wheeling and Lewisburg
Forbes magazine lists Wheeling as one of the "10 Best Places to Live Cheaply" in the United States, citing its highly rated schools, low crime and low unemployment. Budget Travel Magazine calls Lewisburg "America's Coolest Small Town." Learn how these West Virginia cities offer the perfect balance.
Browse the iPad-friendly, interactive eMagazine to view videos, photo galleries and additional content.
Email your mailing address to request a free copy of WV EDGE.
Sign up to receive the monthly West Virginia EDGE Business Report.