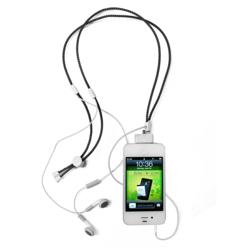 Combine style and security with iHangy Music Necklace around the neck with high quality earbuds
Dallas, TX (PRWEB) May 15, 2012
Apple's iPhones and iPads have become such an integral part of American culture that one can't walk down the street or sit on a bus/train without seeing a young person with one of these devices attached to his or her ear. The problem is that the earpieces that typically come with these smartphones and mobile listening devices are not only unattractive; they're also a less-than-secure way of keeping tabs on these costly tech contraptions. OnTrion, a leading provider of mobile device accessories, combines style and security into its new iHangy™ Music Necklace™ for the iPhone/iPod, which drapes around the neck with a color-coordinated strap and high-quality earbuds.
According to Apple's most recent quarterly financial reporting announcements, 108 million iPhones have been sold worldwide to date. An additional 304 million iPods have been purchased around the world. Many owners of these tech devices are teens and young adults who routinely use both devices to listen to music. Indeed, Apple CEO Tim Cook recently revealed that to date, 16 billion songs have been downloaded from iTunes, the official Apple music store.
The iHangy Music Necklace from OnTrion helps all these Apple apparatus owners protect their investment by securing their iPhone or iPod around their neck. At the same time, its color-coordinating strap and earbuds allow them to flaunt their fashion style while they jam out to their favorite tunes.
For more information on how to look chic while rigged up to an iPhone or iPod, visit http://www.ihangy.com for product information. The iHangy is available for purchase worldwide online at http:// http://www.ihangy.com.
CONTACT INFORMATION:
Palki Kochar
13650, TI Blvd., Suite #309
Dallas, TX 75243
(877)676-0877
# # #