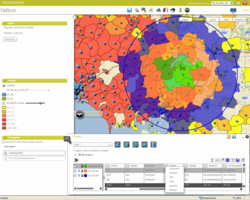 New York, NY (PRWEB) May 15, 2012
The new version features numerous improvements in different areas, including new performance optimizations, advanced queries, viewing functionalities, and multivariate analysis. Version 12.0 technical and functional upgrades make Galigeo a more powerful tool for decision making. By harnessing information already within Business Intelligence (BI), Customer Relationship Management (CRM), Supply Chain Management (SCM), and other enterprise applications, Galigeo has been able to expose trends and relationships from a geographic perspective. "Whereas existing systems might already be managing, analyzing, and visualizing large amounts of business data, they are not adding the "where" factor into their analysis. Adding the "where" factor enables a business to make better business decisions and determine the next best activity to undertake to move the business forward," said Christian Tapia-Stocker, CEO of Galigeo
Highlights of the new release include:
1. New Data Source Connection

CRM tools (Salesforce, Oracle/ Siebel, etc.)
SAP Sybase IQ
WebFOCUS InformationBuilder
2. New Queries Capabilities

Natural language query
New intuitive wizard for query creation
Data Import
3. Users can import their own data from an Excel or CSV file
4. Advanced Visualization and Analysis Capabilities
With the "Advanced Visualization" extension users can multiply the capabilities of multivariate analysis

Time slider
Hotspot
Heat Map
5. Simplified Operation and Administration System

One-click setup
Enriched and simplified console
Deployment tool between environments (development, qualification and production)
6. Enriched Security and Performance

Secured Map Services from ArcGIS server to protect the data stream
Improved LDAP directory integration
Big Data
About Galigeo
Galigeo provides innovative location intelligence solutions for superior business analytics. Galigeo software connects directly to enterprise applications, maps large-scale datasets and applies spatial processing to enhance data visualization, reporting and predictive analytics.
Our solutions are focused on improving Sales Territory Management, Trade Areas Analysis, Resource Allocation, Network Infrastructure Monitoring, and Regulatory & Environmental Compliance. Our partnerships with SAP, IBM, Microsoft, and Esri strengthen our ability to help our clients achieve superior performance. Galigeo is trusted by some of the world's largest companies and governmental organizations.
For more information about Galigeo, please visit http://www.galigeo.com or call (917) 267-7675. Galigeo - 116 West 23rd Street, Suite 500, New York, NY 10011