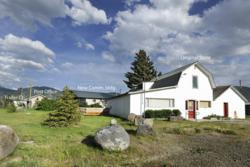 The highest bidder on June 27 will walk away from this event as the owner of the entire town, a general store, a post office and a piece of the American dream
Kansas City, Mo. (PRWEB) May 15, 2012
Owning property is a large part of fulfilling the American dream, but how about owning an entire town? The offices of United Country – Mason & Morse Ranch Company of Glenwood, Colo., and United Country – Shobe Auction & Realty of Lewistown, Mont., have entered into a joint marketing agreement to sell the entire town of Pray, Mont., at an auction event on-site on June 27 at 6:30 p.m.
"The highest bidder on June 27 will walk away from this event as the owner of the entire town, a general store, a post office and a piece of the American dream," said Bart Miller, managing broker of Mason & Morse Ranch Company. "This unique opportunity will allow buyers the chance to own a low-maintenance, commercial property in a breathtaking area of 'Big Sky Country' and just minutes from Yellowstone National Park's back door."
Barbara Walker's family has run the town since 1953, but when she lost her husband Johnny to cancer in 2006, she found that maintaining the town was too difficult to do alone. She made the decision that it was time to sell Pray and move on to new opportunities.
But Walker said being the owner of Pray doesn't have to be a difficult job. "The town is pretty low-maintenance," she said. "You collect the rent once a month and water and mow the lawn. I'm hoping somebody buys it because they want to do something with it."
This five-acre property features a historic 1950s-style store with two commercial spaces within and space to expand into the remaining five rooms. The store is filled with several antique artifacts that are included in the sale. This build qualifies for historical designation with the State of Montana. The town also has a newer energy-efficient building with commercial space and an apartment. Pray also has established rental income with a U.S. Post Office land lease for their building, which provides the town with its own zip code.
"A zip code … that's it, plain and simple," Walker said. "It was the reason for Pray becoming Pray in 1909 and that's the reason it's called a town today."
Pray is located in the heart of Paradise Valley and only 22 miles from Livingston, Mont., 30 miles from Gardiner, Mont., and 30 miles from Yellowstone National Park. It is also near Chico Hot Springs Resort and Absaroka Beartooth Wilderness, which offers over 1,000,000 acres of forest land for the public to access year-round.
For more information or to view the property, email United Country – Mason & Morse Ranch Company at sales@ranchland.com or visit http://www.ranchland.com. This auction is being presented in conjunction with United Country – Shobe Auction & Realty, who can be reached at http://www.UCShobeAuction.com and http://www.UCShobeRealty.com.
About United Country
United Country Real Estate is the largest fully integrated network of conventional and auction real estate professionals in the United States and Central America. The company has been an innovator in real estate marketing since 1925. United Country supports nearly 550 offices across the U.S., Costa Rica, Panama and resort areas of Mexico, with a unique, comprehensive marketing program that includes one of the largest portfolios of property marketing websites (more than 3,000 separate sites and traffic of approximately 3 million visitors per month), multiple United Country real estate catalogs with national distribution , an extensive buyer database and national advertising of local properties that reaches more than 90 million homes per week. United Country has recently been recognized by Franchise Business Review, AllBusiness.com, The Land Report, Entrepreneur and The Wall Street Journal as one of the top U.S. real estate companies.