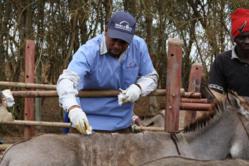 "It's great to be partnering with Innovacyn on this project since Vetericyn is our gold standard for treating these and other types of wounds," said Dr. Cathy King, founder and CEO of World Vets.
Fargo, ND (PRWEB) May 15, 2012
World Vets and Innovacyn Inc., makers of Vetericyn animal healthcare products, announced their collaboration on a pilot mission to help donkeys in Arusha, Tanzania. A World Vets team of eight volunteer veterinarians and technicians, along with local partners, will deliver much needed assistance to the donkeys of the Maasai, Meru and Arusha people. The team's rural mobile donkey clinics will provide veterinary care, hoof trimming, treatment of wounds and de-worming, as well instruction on proper handling techniques and ongoing care.
While World Vets works in several areas of Tanzania, next month's June 21-29 trip will be the pilot program for donkeys in the Arusha region. The estimated 600,000 donkeys in the area are vital to the livelihood of their owners, carrying supplies and providing transportation and farming support. World Vets' goal for the mission is to treat more than 1,000 donkeys during its time in Arusha, and to give owners and local veterinarians the tools needed for ongoing support.
"Our initial assessment of the donkey population revealed a complete lack of preventive health care such as vaccinations and deworming. The most common health problems were infected wounds from carrying heavy loads on their backs. An estimated 50% of the donkeys suffered from painful lesions that require treatment," said Dr. Cathy King, founder and CEO of World Vets. "It's great to be partnering with Innovacyn on this project since Vetericyn is our gold standard for treating these and other types of wounds. In addition to treating individual animals, education on prevention will be a critically important part of the project."
"World Vets provides essential care to treat and improve the lives of both animals and people around the world," said Dave Mills, general manager of Innovacyn. "When we heard about the high numbers of donkeys with infections and wounds in Arusha, we knew Vetericyn could help and wanted to do everything we could to move the mission forward."
Anyone who would like to support the Arusha mission or other World Vets projects can do so at http://worldvets.org/help-world-vets/donate/. In addition, World Vets is soliciting donations of pony-size halters (made from lightweight material) for the Arusha donkeys. Please visit http://worldvets.org/projects/arusha-tanzania/ for more information.
About World Vets
World Vets is a non-government organization (NGO) providing veterinary aid, veterinary training and disaster relief around the globe. Our primary focus is to make veterinary care accessible to the 99 percent of animals in developing countries that never see a veterinarian. With more than 3,600 volunteers, we have projects in 36 countries on six continents. World Vets collaborates with animal advocacy groups, foreign governments, U.S. and foreign military groups and veterinary professionals abroad. Founded in 2006, World Vets is a 501c3 organization.
About Vetericyn
Vetericyn animal wellness products are innovative topical solutions for the care of wounds, infections and irritations caused by bacteria, viruses, fungi or spores. Made up of compounds similar to those produced by the animal's own immune system, Vetericyn will not harm healthy tissue. Vetericyn is pH neutral, non-toxic and will not sting when applied. This no-rinse product, in solution, kills 99.999% of bacteria, viruses, fungi and spores including E.coli, Staph (MRSA), Strep, Moraxella bovis, Pasteurella, Actinomyces, Aspergillus and Pseudomonas aeruginosa. Containing no steroids or antibiotics, Vetericyn tests free for competitive animals.
Vetericyn products are available: in pet stores nationwide, including PETCO; at feed and tack stores; via licensed veterinarians; and through the company's network of distributors.
About Innovacyn Inc.
Based in Rialto, Calif., Innovacyn Inc. is a privately held company that provides premier human and animal healthcare products based on advanced scientific research. To learn more about Innovacyn's products for the human market, visit http://www.puracyn.com, and for animals, visit http://www.vetericyn.com. All Innovacyn products are made in the U.S.A.