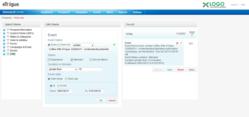 Marketers are embracing the integration of webinar intelligence into marketing automation and lead management systems.
San Jose, CA (PRWEB) May 15, 2012
eTrigue Corporation (http://www.etrigue.com), a leader in marketing automation and sales acceleration Software-as-a-Service (SaaS), announced the availability of new webcast event-management and prospect-management features to its marketing automation suite, eTrigue DemandCenter.
The new webcast event management capabilities simplify webcast workflow with intuitive drag-and-drop customization and automatic population of registration and attendance information into the marketing database. Marketers gain valuable context to visitor activity with drill-down on event detail, visits, and contact touch points. These capabilities make it easier than ever for busy marketers to quickly craft and execute effective demand generation programs.
"Marketers are embracing the integration of webinar intelligence into marketing automation and lead management systems," said Andrew Gaffney of DemandGen Report. "Webinars are a valuable component of demand generation programs. It's important that marketers have easy access to event data so they may take advantage of automation to reach prospects and move them through the sales funnel more efficiently."
eTrigue synchronizes data with WebEx and GoToWebinar, the industry leading webinar / webcast providers, making the data immediately available for use in marketing campaigns and event follow up. By streamlining the management of webcast events, marketers can focus on the strategic aspects of audience development, content preparation, and development of pre-event and post-event marketing plans.
eTrigue DemandCenter also introduced redesigned prospect summaries that make viewing and modifying prospect records easier with customizable tabbed data displays. An adaptable drag-and-drop user interface allows sales and marketing professionals to display message activity, prospect activity and touch management information organized to suit their preferences. DemandCenter prospect records hold a wealth of valuable information on prospective leads and customers, and these new features provide greater flexibility to better leverage them.
About eTrigue Corporation
Since 2005, eTrigue continues as a leading provider of Intelligent Demand Generation™ SaaS products that improve and accelerate the way marketing and sales teams generate qualified leads and close sales. The DemandCenter® marketing automation platform helps marketers build more successful demand generation programs that target, nurture and qualify prospective customers based on their "digital biography, and give sales teams the real-time sales intelligence they need to identify, prioritize and effectively interact with prospective customers. For more information please visit http://www.etrigue.com or call 1-800-858-8500.
eTrigue, DemandCenter, SalesPro, Intelligent Demand Generation and Marketing Automation for the rest of us are trademarks or registered trademarks of eTrigue Corp.