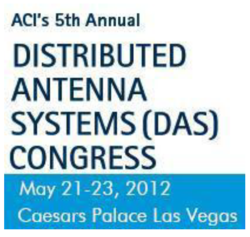 SOLiD is privileged to once again sponsor DAS Congress and help solve the difficult issues in the wireless industry
Roseburg, OR (PRWEB) May 15, 2012
SOLiD is sponsoring ACI's 5th Annual DAS Congress at Caesar's Palace May 21 – 23. The Company returns to DAS Congress with the SOLiD Learning Center which provides attendees with live, hands-on demonstrations of SOLiD's expanded portfolio of innovative Distributed Antenna System (DAS) solutions. SOLiD opens the conference by presenting "DAS Trends – What's Hot & What's Next?" with industry analyst Iain Gillot of iGR Research. Plus, SOLiD's president, Seth Buechley, leads a discussion on making buildings safer in the session, "Establishing Universal Indoor Public Safety Radio Coverage." Lastly, SOLiD is once again sponsoring the DAS Congress Networking Reception.
SOLiD solves the problem of wireless capacity and coverage inside and outside of large buildings, campuses, subways and sports venues with fiber-efficient DAS solutions that scale to support commercial wireless, public safety radio, private 2-way radio, and paging on a single infrastructure. The Company also delivers mobile backhaul solutions that expand the capacity of existing fiber.
The SOLiD Learning Center - Located in the Salerno Room across from the DAS Congress exhibit area, the SOLiD Learning Center enables attendees to explore SOLiD solutions with SOLiD's product managers. This year, the Learning Center includes the ALLIANCE™ best-in-class multi-service platform; the MIMO-ready, operator-specific EXPRESS™ with EasySET™ - the industry's fastest and easiest commissioning software; the new TITAN™ 20W and 5W Remotes for high-traffic indoor or outdoor applications and; the ACCESS™ multiplexor which significantly lowers Small Cell Backhaul, WiFi Offload and BTS Hoteling costs.
DAS Trends Presentation - Iain Gillot, a leading industry analyst and president of iGR, joins SOLiD to examine the most critical trends in DAS including small cell deployments and, more importantly, backhauling traffic to and from the small cell. The panel will also explore how DAS will evolve to deliver a single active infrastructure in the ceiling capable of supporting (and adding) applications and systems.
Universal Indoor Public Safety Radio Coverage Presentation – SOLiD's president, Seth Buechley, leads industry experts in a discussion to fix Public Safety radio coverage where it is most needed: inside of buildings. The panel will explore why this problem exists and will propose a plan for addressing it through industry awareness, a national framework of building codes and a certification program for technicians who install and manage networks that support Public Safety.
"With our mission to lead the markets we serve with best-in-class products and services, SOLiD is privileged to once again sponsor DAS Congress and help solve the difficult issues in the wireless industry," said Seth Buechley, president of SOLiD. "Last year, we suggested a new model for addressing the economic challenge of DAS ownership through a 'Shared DAS' model whereby the Building Owner owns the network, the Operators pay their share and the Integrator installs and manages the system. This year, we're tackling the greatest impediment to the deployment of small cells – backhaul. And, through our Safer Buildings Coalition, we're going to help first responders to do what they do best by empowering them to be able to communicate effectively inside the building."
Visit the SOLiD Learning Center in the Salerno Room. To schedule a private meeting, please email info(at)solidtechusa(dot)com or call 888-409-9997.
For the agenda and to register, please go to the DAS Congress website.
About SOLiD
SOLiD is the U.S. operating arm of SOLiD, Inc., a publicly-traded global telecom manufacturer established in 1998. SOLiD enables greater coverage and capacity for wireless and wireline telecommunications providers with innovative, patented and robust fiber technology solutions. SOLiD's distributed antenna system (DAS) solutions ensure dependable coverage within buildings, campuses and venues with support for commercial wireless, public safety radio, private 2-way radio, and paging using just one strand of fiber. SOLiD's fiber multiplexing solutions, based on patented tunable laser technology, increase existing fiber capacity 16x and reduce CAPEX and OPEX. With innovation as part of its DNA, SOLiD is applying its technology to solve not only today's challenges but leading the development of next-generation solutions. SOLiD's global customer reach includes major wireless operators, Tier-1 and facilities-based carriers as well as leading hospitals, world-class hotels and resorts, Fortune 500 corporate campuses, international airports, professional sports venues, metropolitan subways and other marquee customer sites. SOLiD is available on the GSA Schedule.
Please subscribe to the SOLiD blog, The Inside Story, for the latest information on industry trends.
For further information please email info(at)solidtechusa(dot)com or call 888-409-9997.