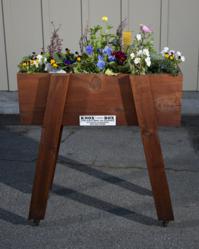 Scotts Valley, California (PRWEB) May 15, 2012
With a new season about to spring, it's the perfect time to elevate the gardening experience with the Knox Garden Box. Built with sturdy, insect-and rot-resistant lumber, these innovative boxes bring gardening to people, and come with several built-in advantages.
Let Knox Garden Box help grow the perfect garden! Gardeners know, and research confirms, that nurturing plants is good for us: attitudes toward health and nutrition improve, kids perform better at school, and community spirit grows.
Research shows that raised garden beds produce almost twice as many vegetables and/or flowers per square foot as ordinary beds. It's easy to create a smaller, more manageable and more prolific garden by working off the ground. A preassembled Knox Garden Box solves problems regarding overly compacted soil, poor drainage, voracious garden pests, damaging cold temperatures, water shortages, and sore muscles from incessant bending and kneeling.
Rest that aching back and bring the work three feet above ground, where it is easier to get hands dirty and you won't trample your plants. Create healthier soil that warms up faster, keeps burrowing pests at bay, and applies mulch and fertilizer with ease and waters more easily and economically. Or buy a Knox Garden Box complete with handles and wheels and move plants strategically around the yard to make optimum use of sun or shade.
What's more, a Knox Garden Box brings order and aesthetically pleasing geometry to any garden.
Constructed with the same quality workmanship seen from its parent company, Knox Roofing, Knox Garden Boxes come in seven convenient sizes, from the 4-foot by 8-foot king size to the 4-inch by 20-inch, four-compartmented starter boxes.
In addition to the Knox Garden Box, the company sells handmade bird houses. Bird houses range from $20 - $90 and are available in different shapes, sizes and colors.
May Knox Garden Box Facebook Contest:
May is National Photography Month! Celebrate with Knox Garden Box by posting a photo of a Knox Garden Box on our http://www.facebook.com/#!/KnoxGardenBox. What is growing in the box? Tell Knox Garnde Box what the favorite item is grown in your Knox Garden Box! Please post between May 1 – May 31 on our http://www.facebook.com/#!/KnoxGardenBox. The winner will receive a wonderful Bird House from Knox Garden Box.
Knox Garden Box is located at 46 El Pueblo Road, Scotts Valley, CA. For further information or to place an order, call 831-461-9430 or visit http://www.knoxgardenbox.com. The company offers shipping.