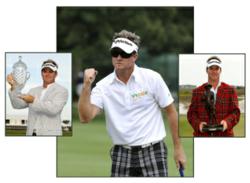 an over-the-counter solution without the high cost and side effects of Rx pills currently on the market
Martinez, Ga (PRWEB) May 16, 2012
Premium Nutraceuticals is proud to announce the completion of an endorsement agreement with multiple PGA Tour Winner, Brian Gay. Vydox, the world's #1 male enhancement solution, will be available for purchase in the USA on June 15th 2012. The ingredients in the Vydox formula are nearly twice the dosage amount as other male enhancement supplements available worldwide. With L-Arginine as the featured ingredient, men can expect a significant increase in the quality of their erections. L-Arginine has been studied in many clinical trials with most showing a significant increase in blood flow. Erectile difficulties affect nearly 30 million men and their partners in the United States alone. Usually men with diabetes, vascular disease, prostate cancer and hypertension experience problems with erection quality. Many men may become depressed and lose self-esteem when faced with this problem. By taking Vydox as a daily supplement, men can regain their confidence and satisfy their sexual partner once again. Finally, there is an over-the-counter solution without the side effects and high cost of Rx pills. You may learn more about Vydox by visiting http://www.vydox.com.
Brian Gay, PGA Tour Winner said, "It is a pleasure to be partnered with a company that offers a premium solution to erectile problems. As a champion on the PGA tour, I choose to only align myslef with leaders in the market place. I have joined the Vydox team to help educate and inform men that Vydox is a safe and effective solution for their erectile problems. The formulators of Vydox are "true champions" and the male enhancement solution that they provide is the best in world--bar none!"
Michael Osbon, President of Premium Nutraceuticals stated, "We are very excited about the opportunity to partner with Brian in bringing awareness to sensitive men's health issues, such as erectile problems. This marketing initiative not only helps bring awareness to this sensitive issue, but it allows us to offer an over-the-counter solution without the high cost and side effects of Rx pills currenlty on the market. By taking Vydox as a daily supplement, these men can significantly improve the quality of their erections. They can have hope in experiencing a better quality of life and satisfying their partner once again."
Mary Mraz, Chief Operating Officer stated, "Being partnered with a professional athelete of the calibur of Brian Gay, we are ensured that the Vydox brand will continue to develop worldwide. In addtion, this partnerhsip will help ensure our customers that they are receiving the premier male enhancement solution and can expect life changing results."
In 2012, Brian will be wearing the Vydox logo on his apparell at PGA tour events worldwide and his image and likness will be displayed on all Vydox marketing material. For updates on the US launch of Vydox, you may visit our facebook page at http://www.facebook.com/VydoxMaleSupplements.