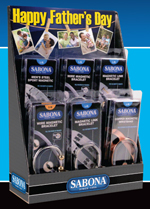 ...we look forward to adding more holidays to the customized display graphics available, such as Valentine's Day and Mother's Day.
Sikeston, MO (PRWEB) May 16, 2012
Sabona of London, the premier manufacturer and marketer of copper and magnetic jewelry, has launched a brand new line of in-store retail displays as part of their marketing support program for retail partners. The displays are designed to maximize store sales by capturing the attention of individual consumers, causing them to spend more time and money in the store.
Lightweight and visually appealing, Sabona's standard 12-piece Display is a highly functional universal display for retail sales countertops. The newest Holiday Promotion display line features user-friendly, interchangeable Holiday graphics, allowing retail partners to use the same display year-round, yet highlighting various broad-appeal holidays during appropriate sales periods.
Father's Day, the 4th of July, and Christmas are currently available for 2012.
Sabona Marketing Assistant, Jordan Myrick hints at future holiday graphics to be added, saying, "As we continue developing our retail partner marketing support program, we look forward to adding more holidays to the customized display graphics available, such as Valentine's Day and Mother's Day."
For more information on the Father's Day Promotion that is currently running or more information on any of the displays, contact a customer service representative at 1-800-497-4199 or e-mail info(at)sabona(dot)com
About Sabona of London Unlimited, Inc:
Sabona of London, Inc., established in 1959, has a long history as the premier manufacturer and marketer of copper and magnetic jewelry worldwide! The expanded Sabona product line includes Copper Magnetic Bracelets and Stainless Steel Magnetic Bracelets as well as Pro Magnetic Sport silicone wristbands and Sabona Athletic Bracelets, a line of fabric magnetic bracelets. In addition to magnetic bracelets, Sabona offers Copper Thread Supports, a line of supports for the knee, ankle, elbow, etc. that feature 5% copper thread in the fabric.
Contact:
info(at)sabona(dot)com
800-497-4199
http://www.sabona.com