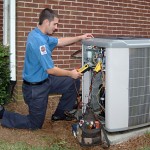 I love Alley Heating & Air because when all other repair companies were booked up for weeks, they were able to come out the next day to save me…
Sacramento, California (PRWEB) May 15, 2012
Alley Heating and Air Conditioning service is concentrating on servicing customers rapidly who have air purification issues in their homes. With spring now in full swing, pollens make their way into our homes, increasing the risk of allergic reactions and respiratory problems. It's the time to take fast action to clean the air, per Alley.
According to reports by the Environmental Protection Agency, the indoor air is often more polluted than the air outdoors. The pollutants include dust particles, pollen, compounds from cleaning agents, carpet dander as well as bacteria and mold spores. Per Alley, all these substances can aggravate or even cause certain physical conditions, creating more health problems than necessary.
The Centers for Disease Control and Prevention says research has shown that symptoms of illness can be associated with dampness, cleanliness and ventilation within the home. When air contaminants are causing allergies or other health problems for family members and carcinogens can invade our living space via industrial compounds we bring into our homes, it becomes top priority to address the matter quickly and effectively.
Alley Heating and Air Conditioning Sacramento services Folsom, Roseville and Elk Grove, giving all of those who call in for air purification and air cleaning priority service with short wait-times for a serviceman to arrive. Alley has expressed concern that homeowners need to take all precautions to ensure their family stays healthy during the spring season.
Affordable service and friendly qualified technicians ensure happy customers. One happy customer, Dave, said, "I love Alley Heating & Air because when all other repair companies were booked up for weeks, they were able to come out the next day to save me…"
About Alley Heating and Air Conditioning Company: http://alleyheatingandair.com/ provides friendly and reliable HVAC services for the greater Sacramento Area, servicing Northern California families since 1964.