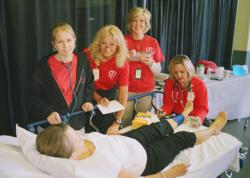 Youngstown, OH (PRWEB) May 15, 2012
"A No. 1," that's the grade 85-year-old Christine Kelley bestowed upon Humility of Mary Health Partners' ninth annual Woman's Heart Day, held May 10 at Covelli Centre.
The Poland resident and her daughter, Kathleen Orr of Boardman, have attended the event each of the last several years and for them, it keeps getting better.
"It's just fun. And it's nice to get all these check-ups," Orr said, motioning to table after table where attendees checked in for a wide range of health screenings – blood pressure readings, health-age assessments, lipid panel (cholesterol) and glucose testing, arterial disease assessments, vision screenings and body fat measurements – all provided free of charge as a service to the community.
"The health screenings and information are No. 1 for us," Kelley said. "I pick up all the information and I take it home and read all of it. It's very helpful." A diabetic, Kelley said she has improved her health as a direct result of what she's learned from attending Woman's Heart Day. "I've completely changed my lifestyle and I feel good," she boasts. "I enjoy this."
Some 720 women and more than 200 volunteers from throughout the Mahoning Valley turned out for Woman's Heart Day 2012, most to take advantage of the free health screenings.
"I don't have insurance, so this really helps me. I come every year and get checked out," said one woman. Several others nodded in agreement.
Others consider it a social event. "It's girls' day out," chuckled a woman in her mid-70s.
In addition to the health screenings, attendees enjoyed free on-site massages and salon services, visited more than 45 exhibitors offering information on a wide range of health issues – diabetes to wound care, breast cancer to heart failure, surgical weight loss to healthful eating – and attended presentations from health experts, including a hands-on presentation about the human heart where audience members were invited – Dr. Oz-style – to don rubber gloves and literally feel the difference between a healthy heart and one that wasn't.
About Humility of Mary Health Partners:
Humility of Mary Health Partners is an integrated health system located in the Youngstown/Warren area. It is a region of Catholic Health Partners (CHP) in Cincinnati, the largest health system in Ohio and one of the largest Catholic health systems in the United States. HMHP provides a full spectrum of health care services, including inpatient, outpatient, emergency, urgent care, home care and long-term care. Members are St. Elizabeth Health Center, St. Joseph Health Center, St. Elizabeth Boardman Health Center, HM Home Health Services, The Assumption Village, Humility House, Hospice of the Valley and Laurel Lake. Learn more about HMHP online at http://www.HMpartners.org.