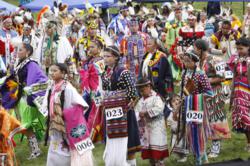 the Plains Indian Museum Powwow at the Buffalo Bill Historical Center in Cody, Wyoming, is ready to engage, educate, and entertain audiences
Cody, Wyoming (PRWEB) May 22, 2012
For 31 years in Cody, Wyoming - a city just 50 miles from Yellowstone's East Gate - the Buffalo Bill Historical Center's largest and longest running public program, the Plains Indian Museum Powwow, has brought together Native dancers, drum groups, historians, and artisans alike to share their Northern Plains culture with spectators. Lakota educator Gloria Goggles uses hands-on activities for visitors to learn about powwow dance, etiquette, tradition, and song with the return of the popular Powwow Learning Tipi. Factor in the Native arts and crafts, and Powwow is definitely an authentic celebration of the Spirit of the American West.
As tradition directs, the celebration gets underway with the Grand Entry—in which all participants make their way into the powwow arena—at noon and 6 p.m. on Saturday, June 16, and at noon on Sunday, June 17. After welcome and an opening prayer, flag and victory songs from the host drum, the posting of flags by the color guard, and a pipe invocation, the competitive dancing begins. There are categories for all ages, male and female, and include jingle dress, fancy, grass, team dancing, tiny tots, traditional, and chicken dance. With some dances, spectators are even invited to come to the arena floor and share the celebration. Announcer and Master of Ceremonies Robert "Corky" Old Horn makes it easy for visitors to follow the action.
The Robbie Powwow Garden is an outdoor grass amphitheater with limited bleacher seating and shade; however, visitors may bring their own lawn chairs or blankets. More than 40 vendor booths of authentic, handmade Native arts and crafts surround the Powwow Garden—named for Miami Dolphins owner Joe Robbie (1916 – 1990) who funded its construction. Gates open at 9:30 a.m. each day, and concessions are available.
Admission at the gate is $10 for adults 18 and older, $5 for youths 7 to 17, and free for children 6 and younger; Historical Center patrons receive a $1 dollar discount with presentation of their membership card. Tickets are good for one day only and are in addition to Historical Center general admission. Groups may purchase tickets in advance by contacting Debra Elwood at debree(at)bbhc(dot)org or 307.578.4114; they can also purchase advance tickets the week of June 11 at the Center's admissions desk.
This year's Powwow is supported in part by a grant from the Wyoming Arts Council and the Silas Cathcart Memorial Fund. For more information, visitors may contact Nancy McClure at nancym(at)bbhc(dot)org or 307.578.4102. Dancers and arts vendors should contact Rebecca West at rebeccaw(at)bbhc(dot)org or 307.578.4049. Press passes are also available through prior arrangement with McClure in the Center's public relations office.
Learn more about the Plains Indian Museum Powwow at http://www.bbhc.org/explore/events/powwow/.
Committed to connecting people with the Spirit of the American West, the Buffalo Bill Historical Center in Cody, Wyoming, weaves the varied threads of the western experience—history and myth, art and Native culture, firearms technology and Yellowstone natural history—into the rich panorama that is the American West. The Center, an Affiliate of the Smithsonian Institution, is open daily from 8 a.m. – 6 p.m. For general information, visit http://www.bbhc.org, or call 307.587.4771.