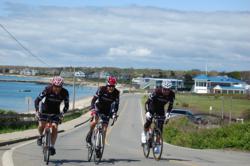 It's great to see groups like Beaumont Solar Cycling make the trip from Massachusetts to Colorado to participate in the Triple Bypass event and support our cause.
New Bedford, MA (PRWEB) May 15, 2012
Beaumont Solar Company, a leading solar engineering, procurement and construction company (EPC) in New England, is exemplifying its commitment to green communities and charities. They have launched Beaumont Solar Cycling, a sponsorship program that will donate $25,000 to riders in charity cycling events during 2012.
"We began the program informally last year," said Beaumont Solar Company CEO Phil Cavallo, an award-winning cyclist in the U.S. and Europe since 1975. "Members of the Beaumont team rode a 76-mile course from Westport to Woods Hole, Massachusetts in 2011. The annual event benefited the Coalition for Buzzards Bay and we'll ride again this year."
According to Mark Rasmussen, director of Coalition for Buzzards Bay, "It is noteworthy that Beaumont Solar Company is connecting our green community with their efforts to support the Bay through this common ground of cycling. We created the Buzzards Bay Watershed Ride as a way to celebrate the Bay landscape from its coastal farms and cranberry bogs to the winding roads of Cape Cod. Our course also physically connects all of the towns that together make up our Bay community."
This year the Beaumont program has been formalized and Beaumont Solar Cycling team members will be training and riding in the company's new team kit, which includes cycling jersey, bibshorts, and optional wind vest and arm warmers, all displaying the Beaumont Solar team logo.
"Any rider who wants to participate in at least two charitable cycling events with the Beaumont sponsorship will purchase a team kit and receive a financial sponsorship of up to $500 per ride to donate to their cycling event charity," explained Cavallo. "This is a positive experience for all with Beaumont raising awareness for its solar brand, and connecting green athletes and communities to support important charities throughout the region."
In the key event for 2012, Beaumont Solar Cycling has committed a team of seven riders to the world-renowned Triple Bypass, taking place in the Colorado Rockies on July 14th. The 120-mile ascent of three 10,000-plus-foot mountain passes attracts riders from around the nation and has distributed donations in excess of $900,000 to dozens of community and charitable organizations.
"The Triple Bypass provides an opportunity to expose thousands of people every year to the many benefits of cycling," said Victoria Klinger, president of Team Evergreen, the organizers of the race. "We've shown that cycling can be a powerful tool in advocacy and fundraising for a variety of causes. With this year's effort, Team Evergreen will have distributed more than one million dollars to local non-profits including those in land preservation, trail advocacy and groups that ensure our ability to make good choices in transportation options. It's great to see groups like Beaumont Solar make the trip from Massachusetts to Colorado to participate in the event and support our cause."
According to Cavallo, "Our current team roster includes members from Massachusetts, New Jersey, Pennsylvania, Colorado, California and Oregon, and in this sense Beaumont Solar Cycling very quickly has a national footprint. We are really looking forward to the Triple Bypass and connecting with new riders. It's easy for a solar company to say they are green and think they are part of a fad, but we at Beaumont Solar are committed to real green initiatives. We want to give back to the community and be a part of a healthy sport that is appropriate for all ages. If we can get more people on their bikes and use this as a conduit to support local charities then we will have achieved our goal."
For more information on Beaumont Solar Cycling, contact Marlene Arruda at marlene(at)beaumontsolarco(dot)com or call 508-990-1701, Ext. 201.
About Beaumont Solar Company
As one of the largest commercial solar engineering, procurement and construction companies (EPCs) based in Massachusetts, Beaumont Solar specializes in landfills, ground arrays, large commercial rooftops and carports throughout New England. Beaumont is vertically integrated with in-house design, engineering and system implementation capabilities within one company. Beaumont Solar projects have resulted in a variety of businesses reaching Net Zero electrical energy, saving millions of dollars in energy and significantly reducing carbon emissions throughout the region. For more information, visit http://www.beaumontsolarco.com.