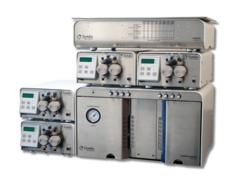 We are committed to bring the advanced separation methods of SMBC and multicolumn continuous chromatography to research, process development, and small scale production labs where these technologies have not been previously utilized
Madison, WI (PRWEB) May 16, 2012
Semba Biosciences, Inc. today announced a collaboration agreement with ChromWorks, Inc. whereby Semba will distribute ChromWorks™ Simulation Software with Semba's Octave™ chromatography instruments. The agreement provides customers with a turnkey solution for development of novel separation processes based on continuous multicolumn and simulated moving bed chromatography (SMBC).
Semba's Octave™ Chromatography System represents a new enabling technology platform for gram to kilogram-scale purification of chemical and biological compounds. This bench top instrument performs SMBC and other continuous multicolumn protocols that increase productivity up to 20-fold over conventional single-column methods. The Octave's proprietary pneumatic valve design maximizes flexibility for programming separations and reliability for continuous operation. With its small footprint and versatility the Octave System brings the high resolution and efficiency of SMBC to the bench top, packing more purification capability into this space than any other similar-size instrument.
"We are committed to bring the advanced separation methods of SMBC and multicolumn continuous chromatography to research, process development, and small scale production labs where these technologies have not been previously utilized," said Robert Mierendorf, Ph.D., President and CEO, Semba Biosciences. ""We have miniaturized and simplified the instrument, and ChromWorks has simplified the methods for using it. Together the two products enable users to optimize their separations in terms of purity, recovery, and productivity with a minimal amount of training and experimentation."
ChromWorks' comprehensive simulation software toolbox simplifies the design, optimization and demonstration of continuous chromatography processes. The software intuitively combines stepwise numerical graphical outputs with flexible fine control options. The dynamic modeling presents robust and accurate simulations of well-known continuous chromatography processes such as SMB, Intermittent SMB, and Bio-chromatography. ChromWorks provides a Cloud-based service for software deployment along with USB license products. The Cloud service allows the software users to access high-performance Cloud computer with fully-functional built-in ChromWorks™ Simulation Software from anywhere anytime via internet.
"We are excited to make our software easily available to Semba's customers," said Bom Han, President and CEO, ChromWorks. "The combination of the Octave System and our modeling software will enable end users to rapidly develop their chromatographic separation methods. This will allow both downstream scientists and process engineers to work within a single solution environment, optimizing productivity and driving increased value for customers in the pharmaceuticals, fine chemicals, energy, and food industries."
About Semba Biosciences, Inc.
Semba Biosciences (http://www.sembabio.com) is a privately held life science tool provider located in Madison, Wisconsin, USA. Founded in 2005, Semba is the first company in the world to offer a bench top instrument for simulated moving bed chromatography, a process that enhances productivity up to 20-fold over traditional separation processes. Customers include universities and pharmaceutical, agrochemical and food companies, who use the Octave™ Instrument to speed discovery and production of new drugs, nutraceuticals, and other high-value compounds.
About ChromWorks, Inc.
ChromWorks (http://www.chromworks.com) is a privately held scientific software provider based in Burlington, Massachusetts, USA. Founded in 2011, the company provides modeling software and services to customers on various needs in simulation, design, analysis and optimization of continuous and preparative chromatography processes.