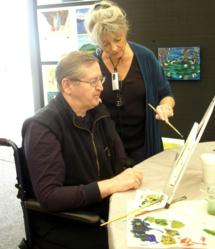 Tempe, AZ (PRWEB) May 15, 2012
Now in their third year, American Healing Arts Foundation has been providing art classes, including sculpting, painting, encaustic wax, woodwork and drawing, with the intent of providing a therapeutic environment and healing through the arts and art therapy. Post-traumatic stress disorder remains high for both wounded and uninjured soldiers plus the suicide and divorce rate continues to soar. Art is proven to be a great form of therapy for victims. AHAF classes not only reunite veterans with their fellow vets, away from hospitals and the fields of war, but also allow for new friendships and a shared creative experience.
For more than 30 years, Veterans Upward Bound program has been helping veterans prepare for their collegiate studies at Arizona State University, enhancing the academic proficiency of veterans in English, math and basic computer skills. VUB is touching our veteran lives through educating and preparing them with free academic instruction and career guidance that will enhance their ability to succeed in their educational goals beyond high school.
Donna Levine, a resident of Tempe, will be teaching PAINTING WITH ACRYLIC on Wednesdays, May 16th, 23rd, & 30th from 8:30am to 12.00pm. Ron Head will be teaching SCULPTING WITH CLAY on Tuesday, May 22nd and Thursday, May 24th from 1pm to 5pm. Classes are located at 1250 S. College Avenue, Irish Hall A-Wing, Rm. 127, Arizona State University, Tempe, AZ 85287-1912.