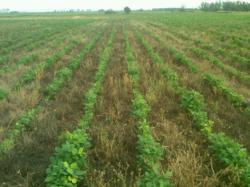 The root mass on the Bio-Forge treated plants were larger and stretched deep into the ground
Woonsocket, SD (PRWEB) May 15, 2012
StollerUSA's stress reducing, yield enhancer, Bio-Forge®, rescued a soybean field in South Dakota from complete loss after being treated with a herbicide that required a ten-month plant-back.
A 90-acre alfalfa field near Woonsocket, SD was treated with herbicide and plans were set to plant corn that spring. Having a change of heart, the grower decided to plant soybeans instead. After growing just three to four inches the soybean plants began to wilt and "shut down." It was then the farmer realized an herbicide with a ten-month plant-back for soybeans had been used to prep the field.
Making the best of a bad situation, Jason White, Location Manager for the South Dakota Wheat Growers' Woonsocket office, applied Bio-Forge the end of July hoping to alleviate stress damage and save the field. White's last ditch effort paid off. The soybean plants came back and produced a crop--even with the extremely dry conditions through the end of the growing season.
"We dug roots up to see what was going on and what I saw amazed me," explained White. "The root mass on the Bio-Forge treated plants were larger and stretched deep into the ground to reach the water and nutrients needed."
The increased root mass and enhanced crop stress management from the foliar application of Bio-Forge allowed the soybean field to reach harvest. Yield results proved what White saw above and below the ground. Anticipating a complete loss, the treated field actually yielded 25 bu/acre. With such surprising results on a devastated field White plans on applying Bio-Forge to several acres in 2012 in hopes of pushing healthy crop yields even further.
"The herbicide recovery experienced in Jason's field is a clear demonstration of Bio-Forge's effectiveness in managing crop stress conditions," states Vicki Dekkers, StollerUSA Sales Representative. "Natural stress and successful grower trials have increased interest and sales of Stoller technology in this region. Bio-Forge is another tool for the grower's toolbox."
Bio-Forge is a yield-enhancing stress reducer for all crops. It reduces the negative effects of plant stress caused by drought, excessive moisture, frost, herbicide damage and other crop stressors. Proven to enhance a plant's natural ability to overcome damage caused by disease, weather and insect productivity, Bio-Forge may be applied as a seed treatment, in-furrow or as a foliar spray application at rate of one pint per acre.
About StollerUSA
Headquartered in Houston, Texas and celebrating over 41 years in business, StollerUSA is dedicated to helping producers enhance yields by maximizing genetic expression. StollerUSA's R&D team is located in a University research facility allowing them access to the most advanced plant research technology. In addition, close ties with universities throughout the nation offer Stoller's R&D team crop perspective with a regional issues emphasis. Only Stoller products contain Stoller's proprietary technology that is proven to ensure optimum plant growth by maintaining appropriate hormone balance and activity. In combination with proper nutrition and good farming practices, the result is enhanced marketable yield, significant return-on-investment and improved stress tolerance. Validated by Universities nationwide, Stoller's unique formulations outperform traditional products and result in healthier, more productive crops that are better able to achieve their full genetic potential.