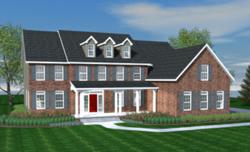 Laytonsville, Maryland (PRWEB) May 15, 2012
NDI Homes of Maryland is bringing a new model home to Montgomery County, Maryland. The most challenging thing for any custom home builder can be customer visualization. New Maryland home builders would love to see the actual home they are going to build before signing on to build a custom home, however it is not possible or practical to have several custom model homes. However, since NDI's introduction to a few larger homes and the ever-popular Craftsman style homes, they have had success in Montgomery County, Maryland and recognized the opportunity to show prospects and clients their product first hand.
"This is an exciting opportunity" said Tom Lizzio, Managing Partner of NDI Homes of MD, "with a growing interest in some larger models and Craftsman style homes you can see the versatility and value of two exciting Old Dominion style homes less than 30 minutes apart."
The model home currently under construction is located in a beautiful small community of Griffith Estates in Laytonsville, right off of Route 108. This model is more of a traditional style home with a little more than 5,000 square feet of finished space that will impress you right from the grand dual staircase foyer. This model is expected to be available for showings and delivery this summer. Also currently under construction as well is the same magnificent Old Dominion floor plan with an exterior makeover that blends in the Craftsman Style surroundings of a highly sought out Bethesda community. The Laytonsville model is offered for sale and the Bethesda home is being customized for a customer. You may follow the progress for both homes or receive more information at http://www.ndimd.com.
About NDI Homes
NDI Homes of Maryland has been one of the premiere custom homebuilders in Maryland for many years. With an extensive background in home building and finance, and a hands-on approach to site development, NDI Homes of Maryland continue to separate themselves as one of the true specialists in single lot construction and existing lot tear down market. Building a new custom home can be challenging, and clients aspiring to build a new home should be given every opportunity to have a rewarding and successful home building experience NDI Homes always provides customers with an excellent value and a well-constructed custom home built with pride and integrity.
Tom Lizzio
NDI Homes of Maryland
134 Holiday Court, Suite 300
Annapolis, Maryland 21401
410-266-5634
http://www.ndimd.com