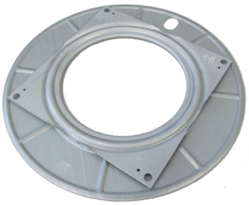 Oshkosh, WI (PRWEB) May 15, 2012
Triangle introduces a new custom turntable bearing that is used in media storage towers, retail displays and other smooth turning applications. This customized design was created by Triangle to compensate for top-heavy displays. The larger diameter of the bottom plate allows for this lazy susan to endure tall displays, a heavy load and still remain stable.
A large display manufacturer requested a turntable that could withstand tall and unwieldy displays and still manage to turn smoothly. This customer designed and sold media storage towers that held DVD's, CD's and the display towers needed to spin freely. Triangle responded with the so-called "Wagon Wheel" lazy susan (6C7375). The top piece is the same as the top of their standard six inch lazy susan bearing, and the bottom is a custom designed nine inch diameter base.
Triangle has been producing customized lazy susan bearings for nearly ninety years. They've customized turntable bearings with modified mounting holes, a multitude of coatings choices and custom trimming options. Triangle also provides thrust bearing options for top-heavy displays, tradeshow displays and retail stands. Triangle's turntable bearings are used in varied applications ranging from kaleidoscopes to kitchens, corner cabinets to cake decorating and dental chairs to auditorium sound systems.
About Triangle Manufacturing
For almost a century, Oshkosh, Wisconsin's Triangle Manufacturing Company has used a foundation of experience, paired with technical know-how and advanced automation to be the leader in fully customizable metal fabrication, product innovation and invention. We have introduced and redesigned fresh products that are progressive in their respective industries. Whether you need lazy susan bearings and HVAC components, pillow block mountings and blower bearing brackets or rod ends and direct-drive motor mounts, you can rely on Triangle Manufacturing's Creative Engineering. For more information, samples or quotes, visit us at our website.
Contact:
Kylie McGowan
Marketing Coordinator
info(at)triangleoshkosh(dot)com