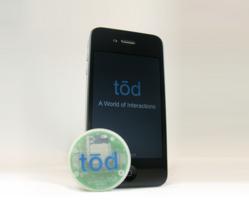 "We're bringing the power of the 'Internet of Things' to consumers' pockets and into the real world, even in places where there is no Internet access," said CEO Jonathan Prevo
Lehi, Utah (PRWEB) May 14, 2012
The "Internet of Things" is getting closer to being an everyday reality, thanks to the team at Rowdy Robot.
Soon, consumers will be able to use the company's small rounded disks—known as a tōd Smart Beacon (pronounced "toad")—to connect real-world objects and events to the Internet and even offline using their smartphones and other mobile devices.
Using tōd Smart Beacons and their smartphones, consumers will be able to find their car in a crowded parking lot, know the exact whereabouts of their children or pets, create "triggers" and customized alerts when they are in range of their home, office or favorite store—and dozens of other practical applications.
"We're bringing the power of the 'Internet of Things' to consumers' pockets and into the real world, even in places where there is no Internet access," said CEO Jonathan Prevo.
Tōd is asking tech enthusiasts to help the company accelerate its launch with a funding campaign on the popular crowd funding website Kickstarter. They have already reached 80% of their $50,000 funding goal, but expect to raise much more. The team at Rowdy Robot plans to ship the first devices in October 2012. Developers will have early beta access to the hardware in July.
The tōd Smart Beacons have already made popular technology news, with coverage on Mashable, Endgadget and Geeky Gadgets.
The Technology Behind tōd
The tōd Smart Beacon is a wireless accessory about the size of a silver dollar. Consumers can use the devices along with a free smartphone and tablet app to interact with real-world objects, places and actions instantly and automatically. Tōd's are small enough to fit in a child's pocket or a car's glove compartment and have a battery life of over a year. The effective adjustable range of each tōd is anywhere from three to 500 feet.
Each tōd contains an RFID-like chip that connects Smart Beacons to devices that use Bluetooth 4.0 technology, such as the iPhone 4s, new iPad, Droid RAZR, Samsung Galaxy S3 and HTC One S and One X. The tōd platform is based around their Smart Beacon, which allows you to engage with your everyday environment using three core events of "in range," "out of range" and "scheduled."
Things You Can Do With tōd
"Tōd is a way to connect both your actions and valuable things to cloud driven interactions," Prevo said. "The tōd Smart Beacon extends the functionality of your device and the Web into the world around you. For example, if your dog is wearing a Smart Beacon and jumps the fence, you will be instantly and automatically notified and can use the system to help track it down. Or if your child wanders too far from your safe zone or your teenager misses their curfew, you'll be alerted instantly. You can also use tōd to trigger reminders, emails or texts automatically, along with a host of other things."
The free app comes pre-installed with 10 aptly named templates, including functionality for proximity-based events and automatic updates to social media sites like Foursquare and Twitter. The company has also created an easy way for the users to build their own interactions without having a technology background.
"We are planning for an array of sensors and add-on modules to extend the functionality of the tōd Smart Beacons," said VP Don Mallicoat. "We are actively experimenting with existing products and services that could be enhanced by the power of the tōd Cloud, the tōd App and Smart Beacons."
Consumers Helping To Fund tōd
Early investors have already committed over $40,000 (as of May 14, 2012) after learning about tod's pitch on Kickstarter. With a project deadline of June 3, 2012 they fully expect to exceed their official goal of $50,000.
Depending on the amount that backers donate on Kickstarter, they will get mentioned on the tōd website, gain access to the beta software, or receive tōd Smart Beacons, t-shirts and a package to help them create their own Bluetooth 4 based solutions.
About Rowdy Robot
Rowdy Robot is developing tōd as affordable and expandable technology to connect consumers to their favorite places, things and actions using the company's innovative devices and software paired with Bluetooth 4 enabled devices. The Lehi, Utah based company was officially founded in 2012 after several years of research and development. For more information about tōd, visit http://todhq.com.