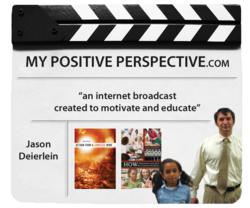 In all competitive sports, the result is determined at pracitice and all the hard work one has put in
Charleston, SC (PRWEB) May 16, 2012
May 16, 2012 gives My Positive Perspective host and a recently published author time to reflect on the all the good sports had on their lives. "Swimming saved my life after my car accident," notes brain injury survivor, Jason Deierlein, "It allowed me to adopt the correct lifestyle growing up." After a car accident changed a life forever, incorporating what Jason learned through the lifestyle that swimming incorporated was a necessity.
No matter what the sport is, any young athlete has to adopt a lifestyle that incorporates hard work and belief that improvement comes as a result of working hard in practice. At a young age, a child begins to adopt habits that will help shape the rest of their life, and the saying "Old habits are hard to break" proves to be true amongst the population. This fact can be countered by the saying, "Practice makes perfect." It was the habit of working hard every day at swim practice that helped allow for a successful rehabilitation to occur.
Recently published author, Ward Irvin, states, "Whenever an athlete is competing, the swim race, basketball game, or whatever the sport may be, the result is determined by the practice and hard work put in previously. Sports teach the importance of dedication, and the benefits of hard work. "My oldest son is currently a 10th division mountain division army ranger in Afghanistan, says Ward, "He applies some of the same things he learned from swimming for when he goes into wartime." Given the tremendous amount of hard work and dedication it takes to serve our country in such a dangerous world, it goes without saying how important it is for our youngsters to be aware of and grow up with the presence of sports any other things that incorporate hard work and teamwork.