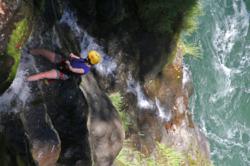 My daughter and I loved everything about our stay at Rios Tropicales. The rainforest was pristine, the rapids were exhilarating, the staff were more like friends than help, the food, lodging and information about the environment was excellent!!!
(PRWEB) May 22, 2012
When dreaming what a genuine "Eco-Lodge" deep in the rainforest could be like, people might think of beautiful tropical gardens framing native wood Lodge rooms, open air gathering pavilions with thatched roofs and comfortable hammocks swinging in a gentle breeze, ample viewing decks for watching the toucans fly overhead and the river dance along its rapids. Good imagination! This is exactly what travelers experience at Rios Tropicales Lodge. Combining rafting on the Pacuare with a stay at this remote Lodge, tucked in the rainforest on the banks of the river.
Rios Tropicales Lodge, complete with electricity thanks to our hydro-powered generator system, is a model of eco-tourism and sustainable business practices.
This ultimate adventure playground is hosted by qualified river guides that not only work as a team with paddlers maneuvering rafts through this impressive natural corridor, but also cook unforgettable meals.
Activities at the Lodge include: Naturalist tours, hiking, waterfalls and pools to soak in, and an awesome zipline course, horseback riding, Sustainable farming tours, and tree-planting.
Starting this season Rios Tropicales is updating their "Adventure Loops" from their Lodge. This new "Adventure Loop" starts hiking from the Lodge into the Pacuare River gorge on river right towards Wake-Up falls Canyoning adventure. This environmentally rich trail, with 3 walking bridges, will lead adventurers for ½ hour to the base of Wake-Up Falls. Once at the foot of this Pacuare landmark, a 200 foot hike up to the safety platform is the last portion of the trail. Here Rios Tropicales guides will fit the professional climbing equipment and instruct safety procedures for this Canyoning adventure. On this rappel for 60 meters down the face of the waterfall, four different sections will be encountered, the last leg will be inside the waterfall, so be ready to be very wet ... From here thrill seekers can zip high over the river with a birds-eye view of Wake-Up falls, Terciopelo creek and the Pacuare Gorge. Within the natural reserve you will zip-line, across the river again, upstream towards the trail leading to & from Wake-Up Falls.
Rios Tropicales has been taking adventure travelers to the Pacuare and Costa Rican rivers and coasts since 1985. Their signature multi-day trip offers extraordinary rafting and Eco-Adventure with lodging at unique Rios Tropicales Lodge. Available activities depend on the number of days of the trip.