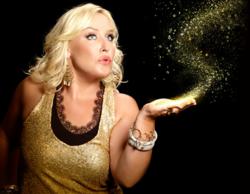 Los Angeles, CA (PRWEB) May 15, 2012
Cover Look Collection, the style and beauty website that creates "How To" guides to help men and women achieve magazine cover looks, is having a contest for bloggers and YouTube beauty gurus! Do you have what it takes to impress the celebrity judges in the Bronzed Brides challenge? Enter by uploading a video tutorial demonstrating how to achieve the cover look from the May 2012 Brides magazine cover (hair and makeup) which can be found here: http://www.brides.com/images/2012_brides/2012_05_TOC/brides-may-cover-toc.jpg.
Entrants will be narrowed down to six finalists based on the videos with the highest
views (2) and most likes (2) along with a pair of "wild card" entrants chosen by a panel of Cover Look Collection pro judges.
Emmy-winning makeup artist Melanie Mills will select the video tutorial winner.
Prizes:
Adonia Organics-
Winning YouTube Guru will receive a 5-piece prize pack from the Adonia Organics skin and body care line hand-selected by Cover Look Collection, valued at more than $500. One second-place finalist will receive an Adonia Organics Bronzing Glow set.
Gleam by Melanie Mills-
Winning YouTube Guru will receive the complete collection of Gleam Lip Radiance along with her choice of Gleam Body Radiance. One second-place finalist will receive their choice of one Gleam Lip Radiance and one Body Radiance.
May 31st is the final deadline for YouTube video uploads, and public voting is open for all contestants from June 1st-27th. The winners will be announced on Cover Look Collection on July 2nd.
Check out this video about the contest: http://www.youtube.com/watch?v=cWcQ2SNN4fk&feature=youtu.be
Or visit this website for more information: http://www.coverlookcollection.com/#!current-giveaways