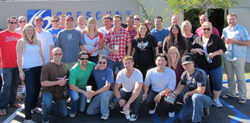 One decade ago, six men started this company in a stuffy, spare residential bedroom office in Corona, Calif.
Irvine, Calif. (PRWEB) May 24, 2012
Crescent Solutions, Inc., an award-winning professional IT (information technology) recruiting and staffing solutions company with offices nationwide, is celebrating its 10th Anniversary in business in the $23.5 billion IT staffing industry, beginning with a gala gathering of employees, clients, partners, friends and family in Irvine.
"One decade ago, six men started this company in a stuffy, spare residential bedroom office in Corona," recalled Crescent Solutions co-founder and CEO Brian Fischbein. He saluted his original "bedroom office" crew, all of whom are still with the company. They are Mitch Balzer, Eric Strength, Brian Albano, Jeff Sarubbi and Keith McDonald.
Today, noted Fischbein, as a result of hard work and determination, the company has grown into a $45 million, 500-employee industry powerhouse with offices in six cities supporting a veritable Who's Who of Fortune 500 clients (including Oracle, Broadcom and Intuit). Crescent Solutions annually fills hundreds of positions in 100-plus firms.
In addition to the company's west coast headquarters in Irvine, Crescent Solutions has offices in Los Angeles, Las Vegas, Lake Worth, Fla., Columbus, Ohio and Atlanta, Ga.
"This milestone signifies how far we've come and the progress we've made simply by putting relationships – our employees and clients – first … then business second," said Fischbein. "Our staff is our top priority, and we've never lost a client that we didn't want to lose."
"It's a great time to be in staffing, and IT staffing is red-hot right now," said Fischbein. "The problem we face is that there are now more jobs available than there are qualified people to fill them."
Crescent's Florida Roots
The company originated among a group of Lambda Chi Alpha fraternity brothers on the campus of Central Florida University, where Fischbein studied in the late 1990s. Following graduation, most of Fischbein's friends launched their IT recruiting careers at recruiting and staffing industry leaders Technisource or Aerotek.
Early in 1998, Fischbein headed to California to open an office for Technisource, where he worked through 2002.
"It was then that I decided I needed to make a move and do something better!" he recalled.
He had bought a house in Corona in 2000 and in 2002 left Technisource to start Crescent out of his home's spare bedroom.
"The economy for IT positions was way worse than it had been in a long time," said Fischbein. "We were cold calling anyone and everybody…two hundred phone calls a day."
In October 2002, not a single Crescent candidate got a job offer. Brian had borrowed against the equity in his house and was facing a depleted savings account. "We couldn't even pay the electric bills," he explained.
In November, their luck turned, beginning with Brian's marriage to fiancée Sara. "Pregnant on the wedding night," noted the smiling Brian, today a father of three.
November 2002 was also significant for Crescent Solutions' business prospects – every candidate they put forth got hired. Crescent Solutions was on the way. Company revenues were $450,000 in its first year and by 2007 were running at a $30 million pace.
Named to Inc. 500/5000 Fastest Growing List
Examples of Crescent Solutions' success over the years include being named to the Inc. 500/5000 list of the fastest-growing private U.S. companies (2007, 2008 and 2009), recognized as the Most Dependable Staffing Agency in California (American Staffing Assoc.), and listed among the best companies to work for in Orange County, Calif. (OC Metro and the Orange County Business Journal – 2009). In addition, Brian Fischbein's entrepreneurial spirit was showcased as a 2006 and 2007 Ernst & Young Entrepreneur of the Year Finalist and 2009 Entrepreneur Magazine Entrepreneur of the Year Finalist.
The staffing industry places individuals into temporary, contract and permanent paid working positions within firms around the world. According to the American Staffing Association, the industry generated approximately $109.8 billion in sales in 2011 and is projected to do $130 billion in 2012, with a 10 percent growth rate. In 2012, Staffing Industry Analysts' Timothy Landhuis projects that IT staffing revenue alone could be as much as $23.5 billion.
Crescent Solutions focuses on meeting the needs of both candidates and employers, providing programmers (.NET, Java), engineers and developers in the practice areas of IT strategic planning, security, data center and information management, business applications, service-oriented architecture (SOA) and Web services, supported by project management and consulting services.
Industries Crescent Solutions serves include healthcare, government, aerospace, retail, automotive, manufacturing, education, pharmaceutical/biomedical, information technology, consulting/business services, legal/accounting, creative/marketing, gaming, media/entertainment, communications, financial services, transportation and energy/utilities.
For further information, contact Stephanie Phillips, Crescent Solutions' Mission, Vision, and Values Director: 949-724-0304 Ext: 250 (O) | 626-806-2367 (C).