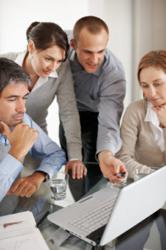 The Memory on Demand exhibit will present the Focus GPS app that has been enhanced by the addition of a major new app feature called "What's Up".
(PRWEB) May 14, 2012
Memory on Demand, LLC, developers of organizational and memory-enhancing software for ADHD students, announces that they will be a sponsor and an exhibitor at the May 19 Regional Education Conference of CHADD (Children and Adults with Attention Deficit/Hyper Activity Disorder).
The Memory on Demand exhibit will present the Focus GPS app that has been enhanced by the addition of a major new app feature called "What's Up". "What's Up" can text or email a student's "To Do's" to his or her parents, tutors, friends, or any guidance supporter. This design helps the student deal with two common school-related problem areas, forgetfulness and procrastination.
Forgetfulness: Many parents are justifiably concerned that during the course of a school day their ADHD student might forget to complete the most important tasks on his or her daily "To Do" list. Being able to glance at his or her "What's Up" in their cell phone at any time eliminates this key problem.
Procrastination: Procrastination is a second key issue for many students. Parents and tutors are powerless to help the student deal with this challenge until they become aware of the student's upcoming projects and/or responsibilities. By providing this information, What's Up introduces the concept of "accountability". This knowledge can powerfully motivate the student to do the work, earn praise, and enjoy a feeling of success.
Focus GPS, currently in testing with children and adults who have ADHD, supports three critical executive function areas: memory, concentration, and organization. The software permits ADHD users to step through complex thought processes and effectively manage shifting priorities.
The founder of Memory on Demand, Ray E. Omholt, suffered a stroke in 1990 that damaged his executive functions. In the years following, he researched the working of the brain and its ability to remember, concentrate, and organize facts and thoughts. Based on his research and many years of empirical development, Omholt created Focus GPS, the software he now uses daily to support his memory and increase his organizational capabilities. (http://www.youtube.com/watch?feature=player_embedded&v=iWk5njKapAE).
Memory on Demand does not stand alone in recognizing the needs of students with ADHD for special support. It is commonly agreed, including by nationally recognized ADHD experts, that individuals diagnosed with ADHD can benefit from support above and beyond that provided by medications alone, however helpful such medications may be.
Focus GPS uses multiple information pathways (vision, sound, associations, etc.) to help ADHD students absorb information more deeply and remember it longer. Its patent-pending design greatly simplifies the prioritization and analysis of tasks, thoughts, and decisions by displaying side-by-side views of related thought-lines. This is by far the easiest way for users to be able to compare and make good choices between various alternatives by their relative importance without having to rely on memory.
Memory on Demand, LLC, is located at 668 Kadar Drive, West Chester, PA 19382. Its website is http://www.Memory-on-Demand.com. Contact Ray Omholt at Ray (at) Memory-on-Demand (dot) com or call 1-800-398-1157.