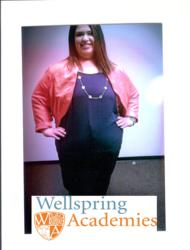 It has been such an incredible journey
Reedley, CA (PRWEB) May 16, 2012
Fifteen-year-old Xiomara first appeared on Dr. Drew Pinsky's television show "Dr. Drew's Lifechangers" weighing 417 lbs. and feeling deflated from repeated attempts to try and lose weight in her home environment. Even with the assistance of two former "Biggest Loser" contestants, Xiomara just couldn't stick with a weight loss and exercise plan. Realizing that Xiomara needed to make real changes to her lifestyle, Dr. Drew sent her to Wellspring Academy of California, a top residential treatment program for overweight young people. This week, his daytime talk show checks in on Xiomara's progress and viewers get to see her dramatic transformation.
"Wellspring has changed me in all areas," says Xiomara. "It has been such an incredible journey. You learn to live with a group of people and wonderful staff that… support one another. We are all here for the same reason, to get our life back. It has helped me realize how much to look forward to in life. That I can take this program home, and continue my journey. It's not one of those cheap diets, it's a life change!"
"I have seen [Xiomara] transform into a much more confident, outgoing young lady," said Dr. Don Burnard, Executive Director of Wellspring Academy of California. "She is regaining her sense of self-worth, is even jovial at times, and displays a sense of humor that was not initially visible. She moves freely among her peers, and has even ascended to somewhat of a leadership role within the student community."
He added, "She has a good rapport with staff and has developed countless life-long relationships and supporters."
The Wellspring Plan that Xiomara has followed for success has three basic elements. One is to take at least 10,000 steps daily, measured by wearing a pedometer; the second is to always aim for zero fat grams, but accept up to 20; and the third is to always "SMJ," the acronym used for Self-Monitoring Journal in which the participants write down or journal all meals, thoughts and feelings.
"By using these three steps daily, I know I can be successful," says Xiomara.
On Wednesday's show, Dr. Drew speaks with Xiomara about her new body and her new outlook on life. In the show, taped in January, Xiomara announces her weight loss achievement, and has continued to lose another 42 lbs. since then. She is still attending Wellspring Academy, but will be returning home next month.
"As I transition home, the way I plan to continue my journey and weight loss, is to live up to the Wellspring program," she says. "I want to personalize my program at home as I know there will be many temptations. But, even when things become rough, I know I must always continue on the Wellspring basics. I realize that daily exercise and the right nutrition will play a big part in my transition at home. I hope that when I feel like giving up, that I can look back to when I was at Wellspring and know that I don't have to still be there to change my life, that I can do it at home."
She adds, "I cannot explain to you how grateful I am to have received this opportunity. I have learned so many new things about myself that I hadn't known. I have so much to look forward to in life. I never thought I would have made it this far to be honest, but look at me now. I have gained so much confidence. This isn't the last time you will hear of me, my story is far from finished!"
Dr. Drew's Lifechangers can be seen on The CW at 3pm (check local listings).
Wellspring is America's leading provider of weight-loss camps and residential treatment programs for overweight young people, families, and adults. Wellspring Camps and Wellspring Academies have helped thousands of overweight and obese individuals achieve dramatic weight loss, better fitness, and improved moods and self-confidence. With 12 programs nationwide and one in the UK, Wellspring programs have achieved among the best results ever reported in scientific journals for non-surgical weight loss programs for children, adolescents or adults.
Wellspring is a member of CRC Health Group, the most comprehensive network of specialized behavioral care services in the nation. CRC Health Group offers the largest array of personalized treatment options, allowing individuals, families, and professionals to choose the most appropriate treatment setting for their behavioral, addiction, weight management and therapeutic education needs. CRC is committed to making its services widely and easily available, while maintaining a passion for delivering advanced treatment. Since 1995, CRC programs have helped individuals and families reclaim and enrich their lives.
###