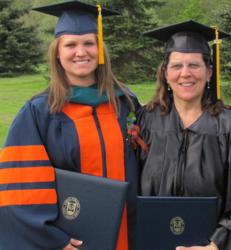 "If I can do it at my age with my family and working two jobs, they can do it too."
Utica, NY (PRWEB) May 15, 2012
At an age when many nurses are eying retirement, Brenda Post has achieved one of her professional goals. At the age of 57, Post received her Bachelor of Science in Nursing, a credential she earned through Utica College's online RN to BS in Nursing program, last Sunday, May 13. Joining her at graduation ceremonies on campus that day was her daughter, Sarah, who received her Doctor of Physical Therapy degree from Utica. It's not every day that a mom and daughter share a graduation day--especially when it falls on Mother's Day.
During her 33-year career as a nurse, Post has worked as an elementary school nurse, a prison nurse for the New York State Department of Corrections, and a critical care nurse and supervisor at a hospital. Yet she still had career ambitions, including teaching at local colleges and at the hospital where she works. Post also saw first-hand the way technology and the increasing complexity of health care was changing the nature and demands of nursing. When her daughter decided to pursue a graduate degree at Utica College's campus, Post was inspired to finally earn her Bachelor of Science in Nursing, choosing Utica's online RN to BS in Nursing program.
Having Sarah on hand to help her with some of the more technical aspects of her coursework was an advantage, but Post also applauds the support available to her as an online student at Utica: "The academic advisors have been super and the resources have been awesome." Post received credit for work experience and was able to complete her coursework around the demands of two jobs and family responsibilities thanks to the flexibility of the online format. Getting to know her fellow students, many of whom lived in other parts of the country, and hearing their perspectives was another benefit, as was becoming more computer literate—a must in nursing today.
Adding to the excitement, Saturday marked her daughter's birthday as well as the birthday of nursing pioneer Florence Nightingale, so Post certainly felt a great deal of pride in herself and her family, as well as a sense of accomplishment, which she plans to share with other nurses thinking about advancing their education. "I would definitely recommend Utica College," she says. "If I can do it at my age with my family and working two jobs, they can do it too."
For more information about the online RN-BSN program at Utica College, go to http://www.onlineuticacollege.com.
About Utica College
Located in the heart of Central New York, Utica College is a comprehensive, regionally accredited, private institution. Utica College offers online certificate, bachelor's, master's, and doctoral degree programs, with options for study in a variety of fields, including business administration, economic crime management, cybersecurity, and health care. All courses are taught by highly experienced, credentialed faculty whose accomplishments are renowned throughout their respective industries.
About the RN to BS in Nursing program at Utica College
The Bachelor of Science in Nursing (RN-BS Nursing) online program at Utica College, prepares licensed registered nurses (RN) who are graduates of Associate Degree in Nursing (ADN) programs for an enhanced career in today's demanding healthcare environment. The program is approved by the New York State Education Department and is a member of the League's Council of Baccalaureate and Higher Degree Programs. The RN-BS Nursing program is also accredited by the Commission on Collegiate Nursing Education (CCNE) and will continue to be members of the National League for Nursing Accrediting Commission, Inc.