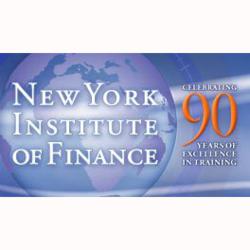 New York, NY (PRWEB) May 15, 2012
Launched in 1922 by the New York Stock Exchange for the purpose of training its employees, the New York Institute of Finance (NYIF) is celebrating its 90th anniversary as the premier financial training organization, with locations around the world.
Originally named the Stock Exchange Institute, NYIF graduated its first class of 205 students in 1924, and by 1930 offered courses to anyone working in the financial services industry. Over the years, NYIF's product offerings, global locations, and methods of delivery have continued to expand, and today it offers public open enrollment classes in New York; Chicago; St. Petersburg/Tampa; Stamford; Toronto; London; Beijing; and Shanghai.
Through instructor-led classroom experiences, eLearning, and its new virtual classroom, NYIF offers exam prep and over 400 courses in categories including accounting and tax; alternative investments; core finance concepts; corporate finance; credit risk; derivatives; financial modeling; fixed income, investment and portfolio management; mergers and acquisitions; operations and compliance; professional skills; project finance; risk management; structured products; technical analysis; trading; and wealth management.
"As we celebrate our 90th year in delivering unparalleled financial learning solutions, we are very much focused on our future," said Katy Rahe, Sales Director, NYIF. "Learning, in all its formats, continues to evolve, and we intend to continue to embrace these changes in order to benefit those professionals looking to us to help them in their continuing professional education."
For more information on NYIF, visit: http://www.nyif.com.
About NYIF
For 90 years, The New York Institute of Finance has been helping financial services companies and multinational corporations to learn and to lead. Through our parent company, Pearson (NYSE: PSO) and its subsidiaries, including the Financial Times, we have unrivalled access to the best financial intellectual capital in the world and have trained over 600,000 business professionals. Taught by best in class industry practitioners, our courses combine academic rigor with an in-depth understanding of how business and finance work in the real world.
Contact:
Rod Granger
Pearson
800-745-8489
rod(dot)granger(at)pearson(dot)com