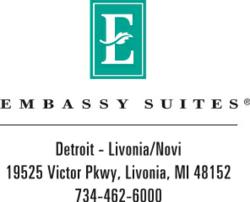 I've known all along that we had something special with this sales team
Denver, CO (PRWEB) May 16, 2012
Embassy Suites Detroit – Livonia hotel's Sales Team was sent home from the WCG Annual Conference with two of Windsor Capital Group's most prestigious annual awards. Recognized as Sales Team of the Year were Jason Mack, Director of Sales; Megan Craig, Senior Sales Manage; Jamie Radley, Group Sales Manager; and Elaine Evans, Catering Manager. The same team was also honored with the "Highest RevPAR Percent Change" award.
The Embassy Suites Detroit - Livonia/Novi hotel achieved a 20.3% increase in Revenue Per Available Room (RevPAR) and a 51% increase in profit in 2011 over the prior year. "I am very proud of my team and the consistent efforts they deliver on a daily basis," said Director of Sales Jason Mack. "They are all very deserving of these awards and I couldn't ask for a more dedicated group of professionals."
Hindered by a demoralized economy in the World's Automotive Capital in 2010, the Embassy Suites Detroit-Livonia/Novi saw opportunity during the stagnant recovery of 2011 to stand out among hotels in Detroit, Michigan and acted with calculated precision to deliver award worthy results. "I've known all along that we had something special with this sales team," said General Manager Fred DeLaRosa. "These awards further validate my beliefs."
About The Embassy Suites Detroit-Livonia/Novi:
The Embassy Suites Detroit-Livonia/Novi is a 239 room hotel conveniently located in the affluent suburban community of Livonia, Michigan. The hotel features all two-room suites, complimentary cooked-to-order breakfast, complimentary evening Manager's Reception, and a variety of local activities. For more information, please visit http://www.detroitlivonia.embassysuites.com.
About Windsor Management Services:
Windsor Management Services, a subsidiary of WCG Hotels, is an award winning, comprehensive hospitality management and development organization that manages full-service, upscale hotel properties throughout the United States. With more than 30 years of experience to call on, Windsor Management Services is known for unmatched results for its owners and unparalleled service for its guests delivered with a personal connection.
For more information, visit windsormanagementservices.com or wcghotels.com. Additionally, please contact Bill Upshaw, President & Chief Operating Officer or Craig Stechman, Senior Vice President-Sales & Marketing at 310-566-1100
For questions please contact Jason Mack, Director of Sales: jason.a.mack(at)hilton(dot)com
# # #