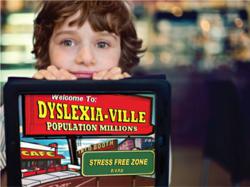 WELCOME TO DYSLEXIA-VILLE.COM: The comprehensive online network that will become the launching pad to success for the millions of dyslexics around the world.
New York, NY (PRWEB) May 16, 2012
Filmmaker, Academy Award winner and dyslexic, Peggy Stern announced today that she and her team are launching a Kickstarter campaign to co-fund the creation of DYSLEXIA-VILLE, an online experience for children struggling with Dyslexia. The campaign aims to raise at least $60,000, which will support the completion of this newly created interactive online destination. The site is visually intuitive, easy to navigate and equipped with audio aids for struggling readers.
DYSLEXIA-VILLE will be chock full of resources, and as Stern explains, "The look is hip and fun but with a serious intention. Our tag line 'population millions' aims to dispel the stigma associated with dyslexia and emphasize that dyslexics are part of a large community that learns differently!" Approximately 1 in 5 children live with dyslexia. "Everyone knows someone with dyslexia," adds Stern. " I hope to rally people from across the globe to support the launch of DYSLEXIA-VILLE, a website that will give kids with dyslexia an interactive and fun experience where they can embrace their learning differences while developing strategies that allow them to enjoy reading!"
Using the most innovative web technologies, Stern and her team are creating the first web-based community where young people will be able to chat with other struggling readers' about dyslexia, engage in a documentary video series designed just for them, while parents and teachers will benefit from resources and links targeting their needs. The site is truly unique.
"As a dyslexic myself, I understand the challenges dyslexics confront everyday. After working hard to put together a model site, and strategizing with a dynamic team of media makers, educators, and designers, I believe we are ready to launch this community resource," adds Stern. "We are asking you to join us and help make Dyslexia-ville a success!"
While every pledge dollar counts and is welcomed, "thank yous" range from t-shirts, book plates, signed books, to a VIP tour at the Jay Leno Show. "Every dollar raised will allow us to build a better online world for those with dyslexia," adds Stern.
To make a pledge, go to: http://www.kickstarter.com/projects/655630/dyslexia-ville. Please send this link on to anyone in your life who has struggled with dyslexia.
For more questions about D-ville, contact us at dyslexiaville(at)gmail(dot)com. Be sure to follow us on Twitter @dyslexiaville or like us on Facebook at http://www.facebook.com/dyslexiaville.