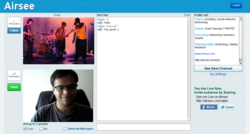 A picture is worth a 1000 words. A video is worth a 1000 pictures. A live person on cam is worth 1000 recorded videos on the Internet.
San Jose, CA (PRWEB) May 15, 2012
Fans want to meet their celebrity in-person. However, this is difficult to achieve given the limited time a celebrity would get to spend due to their busy schedule. Moreover, Fans can be located in any part of the world and tough to meet with their favorite celebrities far apart.
Existing options like Ustream and Livestream enables broadcasting but doesn't allow celebrities to interact one-on-one with the Audience, one person at a time. Google Hangouts are limited to only 10 people in a panel-discussion like format. So, it is mainly a broadcast option. How a celebrity can address a large fanbase while having a rich two-way conversation with the audience? Airsee.com solves this problem through intelligent design simulating face-to-face conversation with a large audience.
The San Jose, California based company has developed a product broadcast live and chat with fans in group chat. Now, Celebrities can also chat one-on-one with a fan in the text chat by click their name in the chat box. Overall, technology simulates the face-to-face interaction with a large audience due to its unique website design, live broadcasting technology and interactivity.
Airsee.com is easy and free for everyone. Celebrities and fans need a webcam, microphone and a good quality internet connection to use Airsee.com. When a person logs in to the site using Twitter, they receive their personalized URL. This URL can be used to address Live Audience and have quick two-way interaction with the Audience. Celebrities are recommended to reserve their own personal URLs. E.g. http://airsee.com/name to use them in future to mass-communicate with the fans.
Airsee also features deep Twitter Integration using which Celebrities can tweet to their Twitter feed, if needed. When celebrity logs in, they can choose to notify their fans about their presence on Airsee using a Tweet similar to following:
See me Live on Airsee http://www.airsee.com/rajan #live #chat
Now, Twitter followers click this link can directly see the Celebrity live and start communicating with them in a group text-chat settings. They can also login with Twitter to start richer audio-visual conversation.
In General usage, Celebrity is broadcasting to a large audience and participating in the Group Text Chat. Celebrities can choose to have a face-to-face conversation with a user by clicking on their name in the Text Chat box. Airsee.com redefines HTML links as people in the Audience. Clicking on a person's name brings them live and an audio-visual conversation begins.
If you're a media contact looking to learn more about Airsee, feel free to contact the founder - raj(at)airsee(dot)com.