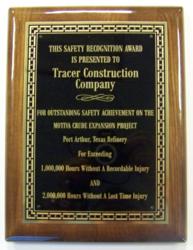 Houston, TX (PRWEB) May 15, 2012
Tyco Thermal Controls' Tracer Turnkey Solutions Team was recently presented with a Safety Recognition Award for its work on the Motiva Crude Expansion Project (CEP) in Port Arthur, Texas. Premier experts in the engineering design, construction, and maintenance of heat-tracing solutions, the team exceeded one million work hours without a recordable injury and two million hours without a lost time injury at the Port Arthur Texas Refinery – a stellar safety achievement.
Tyco's focus on safety has been a vital factor in the success of the expansion project. With a peak workforce of approximately 100 staff members and more than 1,500 employees working to make Motiva's Port Arthur Texas Refinery one of the world's largest refining complexes, Tyco has exceeded performance and productivity expectations while adhering to rigorous safety standards.
"The safety of our employees and those involved with our projects is a top commitment for Tyco, so we are very proud to be presented with this important award," said Dave Megna, president of Tracer division, Tyco Thermal Controls. "With a goal of achieving zero incidents worldwide through our Environmental, Health and Safety program, we expect to continue being an industry leader in preserving the safety of people, property and environment."
In addition to significant emphasis on safety throughout the expansion project, Tyco has also adapted to provide optimized cost-saving strategies for the refinery's heat management system. Tyco's superior technology solutions have reduced the overall electrical load at the Motiva's Port Arthur Texas Refinery by five megawatts – equivalent to the amount of energy needed to power a large neighborhood.
Tyco Thermal Controls began working on the Motiva CEP in 2006, when the Tracer Turnkey Solutions Team was awarded the contract for front end engineering and estimate development. The team later secured full engineering procurement and construction contracts for the project's electric tracing and thermal insulation. As the project nears completion, the team continues to focus on safety of its employees engaged in the facility start up.
About Tyco Thermal Controls
Tyco Thermal Controls, a part of Tyco Flow Control, is a global company providing optimal solutions for various applications involving heat tracing, floor heating, snow melting & de-icing, temperature measurement, fire and performance wiring, and leak detection systems. With operations in 56 countries and experience in managing projects around the globe, Tyco Thermal Controls is the ideal partner for owners and constructors worldwide. Tyco Thermal Controls manufactures, supplies and distributes products and provides services under brand names such as Raychem, Pyrotenax, DigiTrace, Tracer, Alliance Integrated Systems, Isopad, Frostex,
HEW-THERM, TraceTek and WinterGard. More information on Tyco Thermal Controls can be found at http://www.tycothermal.com.
About Tyco Flow Control
Tyco Flow Control, a business segment of Tyco International Ltd., is a leading global manufacturer and marketer of valves and controls, water and environmental systems, and thermal control solutions to vital industries including energy, power, water, mining, chemical, food and beverage, and construction. Tyco Flow Control has more than 15,000 employees in more than 300 locations globally. For more information on Tyco Flow Control, visit http://www.tycoflowcontrol.com.
###