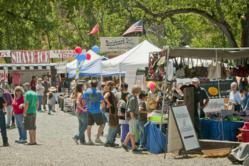 Pickers can find their latest treasure while families can find great toys for kids. There's everything from products for interior décor to products for pets. The diversity makes it a great place to spend a day browsing
Coarsegold, CA (PRWEB) May 15, 2012
The annual Peddler's Fair is a bargain hunter's dream as hundreds of vendors take over the Coarsegold Historical Village.
The fair features a wide range of products such as arts and crafts, various collectibles, antiques and more.
"Pickers can find their latest treasure while families can find great toys for kids. There's everything from products for interior décor to products for pets. The diversity makes it a great place to spend a day browsing," said Jarrod Lyman with the Yosemite Sierra Visitors Bureau.
In addition to the shopping, there will be numerous vendors selling a wide array of food and live music. Admission to the Peddler's Fair is free.
Not only are there acres of vendors from throughout the country, the village is also home to a number of unique shops and restaurants. Visitors can also learn about the regions tribal history, or connection with the gold rush of 1949. They can even try their hand at gold panning.
The Peddler's Fair starts Friday, May 25 and runs through Monday, May 28. More information or vendor packets can be found at http://www.CoarsegoldHistoricVillage.com.
About the Community
Coarsegold is a small community about 25 minutes south of the southern entrance to Yosemite National Park. Part of Madera County, which is known as California's Gateway to Yosemite, Coarsegold was once a boom town thanks to gold found nearby. Now the community is home to the largest tribal casino in central California, a popular bed and breakfast as well as a convenient motel. Annual events include the Peddler's Fair each Memorial Day weekend and Labor Day weekend, and the Coarsegold Tarantula Festival.
More information can be found at http://www.YosemiteThisYear.com.
Jarrod Lyman
Director of Media
Yosemite Sierra Visitors Bureau
(559) 683-4636