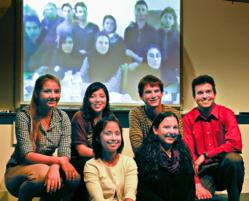 Young people on opposite sides of the world asked each other, "What stereotypes of us did you bring to this debate?"
(PRWEB) May 15, 2012
The debate series was sponsored by Linfield College, a small college in the Pacific Northwest.
Afghan students opened the debate in Allah's name, and formal arguments were followed by a conversation among college students curious about each other. Young people on opposite sides of the world asked each other, "What stereotypes of us did you bring to this debate?" and both sides prefaced their comments with, "Well, I don't want to sound offensive, but …"
It turns out, perhaps not surprisingly, that Afghan students had thought of Americans as "soldiers with a gun waiting to kill," and the American students sheepishly admitted that they had often thought of Middle Easterners as "the people who took down the Twin Towers."
Students at Kabul University asked Linfield College students to let Americans know that Afghans are more multidimensional than they are often portrayed, with one student saying, "We have to solve these things." And as far as future student exchanges, "We have to have hundreds of debates."
During the match-up, only the eighth debate for the Afghan students, one team asserted that the Internet is simply a tool for information gathering, while the opposing team argued that access to the Internet is an essential human right. "The Internet is not just for downloading music," they said. "It made the Arab Spring and other democracy movements possible." The theme of water as a fundamental human right was also a constant thread through Afghan student arguments.
"In the U.S., people often think of debate as something for nerds, but it opens up the world for Afghan students," said Rachel Mills, a recent Linfield College graduate who taught in Afghanistan last summer and helped organize the debate. "This kind of dialogue isn't yet common in Afghanistan, especially when the conversation relates to international politics or their government, but students recognize how much this can help their country progress.
"Afghanistan has been part of our history for 12 years now," Mills said, "and we still don't know very much about it. This type of dialogue helps break down misperceptions on both sides."
The Afghan debate team estimated that most Kabul University students don't know what Facebook is, and that only 1 percent of Afghan citizens have access to the Internet. The twin problems, they said, are cost and illiteracy. Debate, they say, is part of the solution, and in spite of the 7,000-mile distance, both sides hope to share more cross-cultural exchanges.
The debates were organized and facilitated by Mills, Linfield Professor Jackson Miller and Adam LeClair, a coordinator with the Consortium for Elections and Political Process Strengthening in Afghanistan, and the Afghan students were from a number of universities. The event was sponsored by Linfield's Department of Theatre and Communication Arts.
Linfield College, a private undergraduate school located in McMinnville, Ore., is nationally recognized for its strong teaching faculty, outstanding academic and professional programs, and distinctive international emphasis. The small college educates students to become global citizens, with more than half of all graduates participating in study abroad courses.