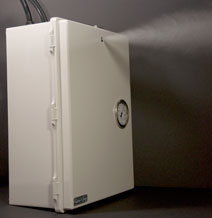 New nonwetting fogging system force's humidity directly into the air
RENO, NV (PRWEB) May 31, 2012
Earlier this week, Smart Fog Inc unveiled its latest development in modern commercial humidification, the humidity enforcement technology.
"Smart Fog's new fogging system force's humidity directly into the air," explains Ido Goldstein, director at Smart Fog.
The Smart Fog humidity enforcement technology brings a fresh and innovative approach to modern commercial humidification. Conventional technologies such as high-pressure, steam, compressed air and water systems, ultrasonic and others rely on the water droplets falling distance to achieve evaporation. Due to structure constraints in many industries, this old approach leaves much room for undesirable wet spots occurring. Evenly spaced water droplets generated by Smart Fog humidity enforcement technology are designed to maintain altitude until complete evaporation, preventing wets spots on any surface, regardless of the falling distance.
The new commercial humidification technology is based on the patented and proprietary technology developed and extensively field tested by Smart Fog research and development team. The key idea behind the development was to disengage the attraction between the water droplets. Water has cohesion, when two water droplets are placed in close proximity, they attract and create a larger droplet. This increase in the mass of the water exposes the surfaces to wet spots and condensation. By the de-correlation, process developed by Smart Fog, droplets remain evenly spaced and directly evaporate into the air.
"We cater to a wide number of industries from small winery humidification to mission critical data center commercial humidification. We have the exact solutions to meet the needs of our customers and the shortest lead time for the industry," says Goldstein. "Our clients are up and running in less than a week."
Smart Fog employs experienced engineering staff and humidification experts who can assist in the selection, placement and engineering of the best suited commercial humidification equipment. All of Smart Fog's products are designed, engineered and Manufactured in the U.S.A.
About Smart Fog:
In business since 1980, Smart Fog Inc. is the recognized world leader in the industrial and commercial humidification systems industry. And, all products are manufactured in the U.S. Smart Fog, The Humidification Experts, is a world leader in developing unique industrial and commercial humidifier systems to meet the individual needs of your environment.
For more information, visit: http://www.smartfog.com.