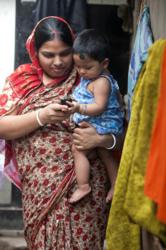 While maternal death rates have been reduced by roughly 34 percent since 1990, every day there are still 1,000 women that do not survive childbirth or pregnancy.
Washington, DC (PRWEB) May 15, 2012
One year since its launch on Mother's Day 2011, the Mobile Alliance for Maternal Action (MAMA) is working with local organizations to send timely and culturally sensitive health and wellness information to new and expectant mothers in 22 countries from Afghanistan to Zambia, via mobile phones.
MAMA, a $10 million, three year partnership to address the 360,000 maternal deaths and 3.1 million newborn deaths that occur each year, is also due to launch nationally in Bangladesh this July, after successful use of mobile messaging in four regions. South Africa will preview its services this month at the GSMA-mHealth Alliance Mobile Health Summit in Cape Town, South Africa.
MAMA is a partnership between the U.S. Agency for International Development (USAID), Johnson & Johnson, the United Nations Foundation, and BabyCenter and operates through a secretariat hosted by the mHealth Alliance.
"Today we celebrate the one-year anniversary of the Mobile Alliance for Maternal Action, an innovative alliance that harnesses the power of mobile technology to deliver critical health information directly into the hands of pregnant women and new mothers, empowering them to make healthy decisions for themselves and their families," said Dr. Rajiv Shah, USAID Administrator.
MAMA subscribers register for the service by indicating the expected due-date, or the birthday of their recently born child, and receive weekly health messages and reminders during the pregnancy and up to the infant's first birthday. Timed messages include tips on everything from proper nutrition, how to keep the baby warm after birth, breastfeeding, vaccinations, and referrals to local health resources.
While maternal death rates have been reduced by roughly 34 percent since 1990, every day there are still 1,000 women that do not survive childbirth or pregnancy. And newborn deaths remain staggeringly high, constituting nearly half of all under-5 child deaths (40 percent). Nearly all these deaths – 99 percent – occur in the developing world.
Most of these deaths are preventable with basic knowledge and care, still beyond the reach of millions of impoverished moms.
"By using available technology and credible health information," said Kirsten Gagnaire, Global Partnership Director at MAMA, "the world has the knowledge and the opportunity to stop millions of deaths to moms and babies each year. As a parent and a daughter, I can't imagine anything more devastating than losing a child or a mother."
More than one billion women in low- and middle-income countries own mobile phones. Mobile health messages can inform, dispel myths, highlight warning signs and connect pregnant women and new moms with local health services.
"More than anything else, mothers and mothers-to-be hope for the health and survival of their babies. MAMA is dedicated to providing timely health information to women in even the most remote areas, where and when it is needed," said Sharon D'Agostino of Johnson & Johnson. "The strengths and resources each partner in this alliance brings to bear are critical to helping women and their babies survive and thrive."
For more information about MAMA, its free adaptable mobile messages, and how to join the partnership, visit its website at http://www.mobilemamaalliance.org.
###
Tweet this: See how MAMA uses mobile phones to deliver health info to moms in need #mobileMAMA http://bit.ly/K8d4Mt
The Mobile Alliance for Maternal Action (MAMA) engages an innovative global community to deliver vital health information to new and expectant mothers through mobile phones. MAMA is making a three-year, $10 million investment to create and strengthen programs in three countries – Bangladesh, India and South Africa – and to enhance global capability of new and existing mobile health information programs for moms in those countries and beyond.