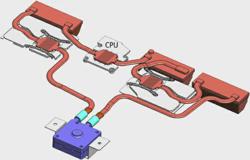 That prototype system, with optimized cold-plate technology, enables utilization of far more powerful laptop parts than air cooling could ever allow, and with reduced noise output.
Austin, Texas (ATX) (PRWEB) May 16, 2012
It's been said: "There is more than one way to skin a cat". Stop right there. I don't even want to hear the first way, much less the others. As any competent cat could tell you, it's also possible to "kill two birds with one stone", assuming of course, that you do actually have a talking, stone-throwing cat. However, even the most highly skilled, stone throwing, talking cat would be having a genius-level day if it could take down three birds with a single throw.
Meet a Cool Cat
Reader, meet Asetek, a very cool cat indeed. Asetek, meet our inquisitive guest, Reader.
You may not have known, that Asetek has been speaking with our guests AMD and Intel regularly, on a first-name basis, you might say.
You see, Reader, our guest Asetek here, can keep his balance, walking the fence between CPUs and GPUs, and also between gaming laptops, all-in-ones, and workstations. I dare say that even if he lost his speaking skills today, Asetek's work and products could go on speaking for themselves, but very quietly, in a somewhat muted voice.
Meet the Enemy
Even casual PC users know that heat is the enemy of the innards of any laptop, all-in-one desktop, or workstation. That enemy tends to result in a loud hissing noise, and occasionally laptop repairs. Typically both laptops and desktops have multiple fans, which are effective up to a point, but will be noisy at higher RPM, when a CPU, GPU, or APU is performing under load.
That is particularly the case for workstation laptops, gaming laptops, and also overclocked computers of any kind in which the processor or graphics card has had it's speed increased beyond the manufacturer's original design specifications. In some desktop PCs as much as 100 watts of power may be running through a piece of silicon the size of a small coin.
Typical solutions include running fans at high noisy speeds, adding additional noisy fans, using heat-pipes, or various forms of liquid-cooling, including water-cooled solutions. Overclockers know that fans are only effective up to a certain clock-speed and thermal output. Beyond that very noisy point, the only practical solution has usually been water-cooling.
By far the majority of water-cooled computers have previously been desktops. That of course is a result of the size and weight of water-cooled solutions. Those PC components have not been suitable as laptop parts, until now.
"The times are a changin"
Asetek has developed a slim form-factor, liquid-cooling system composed of a water pump, three water-blocks, and three compact radiators. That prototype system, with optimized cold-plate technology, enables utilization of far more powerful laptop parts than air cooling could ever allow, and with reduced noise output.
Asetek chose an Alienware M18x notebook as the prototype demo showcase model. That allowed substantial overclocking of both the CPU and GPUs, and achieved a 23% improvement in Futuremark's 3D benchmark, while also reducing the noise signature of the laptop. The Alienware M18x is definitely not a thin-and-light laptop, and it may be quite a while before this water-cooling technology is available in ultrabook and ultrathin notebooks.
Cool Cat Walks the Fence Between Laptop Parts
In typical use computer CPUs and GPUs will not usually experience heat producing, maximum speed operations simultaneously. Asetek's slim form-factor liquid-cooling technology takes advantage of that by interconnecting all of the thermal management laptop parts, enabling them to dynamically redistribute idle cooling capacity from each other. Noise output is reduced by slowing the fans down, and redistributing air flow across multiple heat exchangers.
"Three Birds-of-Paradise" Sing a Summary
1. Our Asetek cool cat guest is 12 years old, and taught itself some new tricks. Its slim form-factor, liquid-cooling system allows for far more powerful laptop parts than air cooling could ever enable.
2. It accomplishes that cooling with far less noise output.
3. It makes OEM water-cooling for gaming laptops, workstation notebooks, and all-in-one desktops practical.
"Birds-of-a-Feather Flock Together" with a Cool Cat
Both AMD and Intel have introduced water-cooled solutions, which they co-developed with Asetek for some of their new processors, to provide robust system cooling with virtually no maintenance.
Assessment
By now dear Reader, you know with certainty, our cool cat guest, Asetek, is definitely not a one-trick pony.
Disclaimer
No birds were actually stoned, or shot, for this article. It's against our policy to actually "shoot-the-bird" on company premises, but we have been known to "give 'em Dell" (parts).