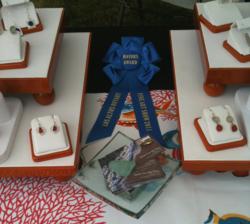 " It is nice to be honored at such a fine art show in my old hometown," says Award winner Krista Hammond.
Santa Cruz, CA (PRWEB) May 15, 2012
One of the Bay Area's premier open-air art shows, the Los Altos Rotary Fine Art Show features original, juried works by some 200 artists. In its 37th year, Santa Cruz Sea Glass has been a featured artist since 2010. Krista Hammond, owner of Santa Cruz Sea Glass is in fact a 1989 Los Altos High School graduate.
Winning a Mayor's Award Ribbon from former Los Altos Mayor Penny Lave in 2011 was a highlight for Krista. "Being a Los Altos graduate and having grown up here, it is nice to be honored at such a fine art show in my old hometown."
Krista and her husband have been creating high quality, unique, one of kind pieces of jewelry using sea glass they have found and USA recycled sterling silver since 2006. Their company, Santa Cruz Sea Glass has been endorsed and partnered with the National Marine Sanctuary Foundation (NMSF) since 2008. Krista helps to raise awareness for ocean conservation through donations from the sales of her jewelry, being a member of the NMSF Leadership Committee and hosting her own festival the Santa Cruz Sea Glass & Ocean Art festival. In its 4th year, Krista donates 10% of admission and sales to the Foundation.
Krista is hoping that Santa Cruz Sea Glass will receive another Mayor's Award in 2012, as she is creating some very rare and beautiful pieces just for the show.