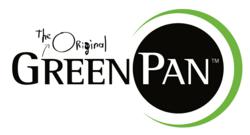 "We owe our success not only to our inventive, high-quality line of products, but to a heightened sense of public awareness for health and sustainability that's creating a savvier product-buying public"
Tarrytown, NY (PRWEB) May 15, 2012
With the international cookware industry dubbing GreenPan the pioneer and preferred ceramic non-stick brand in more than 80 countries, a series of exciting activities and events will highlight the company's success throughout 2012. Launched in 2007 and introduced by President Jan Helskens and CEO Wim De Veirman to address the public's growing concern with PTFE and PFOA coatings on cookware and many other home products, the preeminent green cookware brand has found fast success with a line of honest cooking pans that are consistently revolutionized with customer praise and feedback. With the U.S. market leading the global boom in ceramic cookware, the industry is taking off at a faster pace than ever, and GreenPan is leading the fray.
Marked by an outpouring of support from savvy home cooks, GreenPan will celebrate the close of its fifth dynamic year by offering five social media giveaways throughout the year, which started in Earth Month (April 2012) and will extend through Mother's Day, Father's Day, Thanksgiving and the winter holidays. Five lucky winners will receive a themed prize in line with each celebrated holiday during each social media promotion on http://www.facebook.com/greenpanUSA.
GreenPan's initial success started immediately as they launched on HSN in 2007 by selling over 100,000 pans in four hours. From there, the demand grew and GreenPan began expanding its offices worldwide. Over the past five years, GreenPan has opened new doors from the headquarters in Belgium to five other offices in the United States, Hong Kong, Eastern Europe, Tokyo and the United Kingdom where demand has risen and made GreenPan the top-selling, non-stick, green cookware in the world. The products have been at the forefront of home and professional cookware innovation by creating premium, healthier cookware for the everyday, at-home gourmet chef.
With lines from everyday cookware to professional lines, to celebrate the five-year mark additional products like The Steak King™ Contact Grill and the Essentials Groovy Grill™ are changing the way people are cooking at home by adding convenience to high-quality cookware for everyday cooking. GreenPan plans to continue its top status as the leading innovator and the greenest and healthiest cookware company across the world.
"We owe our success not only to our inventive, high-quality line of products, but to a heightened sense of public awareness for health and sustainability that's creating a savvier product-buying public," said Dieter Naessens, Executive Vice President of Sales in Europe and the Americas. "In today's highly competitive cookware market, we're fortunate that so many consumers know to look for the Green Apple when seeking out the safe choice."
Readers who would like to learn more about GreenPan and to explore the extensive line of products are invited to visit http://www.green-pan.us
Frequently Asked Questions
What is PTFE?
PTFE (Polytetrafluoroethylene) is a synthetic fluoropolymer which was discovered in 1938. In 1949 it was introduced as a commercial product. PTFE is an ethyl polymer where the hydrogen atoms are replaced by Fluor. The polymer has a very big length and is one of the largest molecules. Since its discovery in 1938, the PTFE structure has remained unchanged.
What is PFOA?
PFOA (Perflueoroctoanoic acid also known as C8) is an artificial acid that has many industrial uses. PFOA can designate the acid itself or its principal salts (like ammonium perfluorooctanoate). Perfluorooctane sulfonate is a related compound, used as a surfactant. The durability of PFOA prevents it from breaking down once in the environment, leading to widespread buildup and bioaccumulation in food chains.
EDITOR'S NOTE: To speak with a GreenPan spokesperson, or to learn more about GreenPan and its cookware products, please contact Pamela Wadler or Nancy Trent at (212) 966-0024.